Southeastern: Prioritising accessibility through COVID-19
Justin Ryan, Accessibility and Inclusion Manager at Southeastern, tells Global Railway Review about Southeastern's most recent accessibility improvements.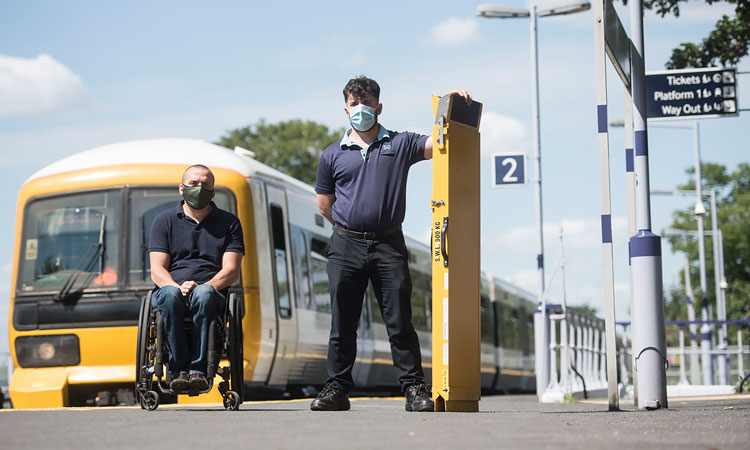 Andy Barrow, a triple Paralympian, is one of Southeastern's regular passengers and will be the new Chairman of the operator's Passenger Accessibility Panel.
Though the industry has worked hard to reassure people that travelling by train is safe, COVID-19 restrictions have significantly reduced the use of public transport. Before the pandemic, 640,000 people travelled with Southeastern every day, the majority of whom were heading into London for work purposes. Yet currently, during this third lockdown in early 2021, passenger numbers are around 15 per cent of pre-pandemic levels.
Today, our main operational focus continues to be playing our part in helping key or shift workers, who have to make essential journeys, get to where they need to be. At the same time, we have a fundamental principle that rail travel remains, truly, accessible for all. Our commitment as a responsible operator is to provide a safe and comfortable journey for everyone.
During our current direct award contract that runs from April 2020 to October 2021, we will invest £3 million in accessibility improvements. This is focused on four main areas; improving access to information, physical accessibility improvements at stations, upskilling our 4,500 strong workforce, and engaging with our passengers about the improvements they value most and others they would like to see implemented.
Surveys have found that around 11 per cent of rail passengers declare that they have some form of disability. Thanks to improvements in trains and at stations over the last 25 years, a large proportion can still travel without booking assistance.
But many people do need help and we are always looking at how we can improve our service for them. In February 2021, we are publishing our new accessible travel policy, following approval by the Office and Rail and Road (ORR) at the end of December 2020. The policy document – Making Rail Accessible, Helping Older and Disabled People – sets out the arrangements and assistance we will provide for people who want to use our trains.
At Southeastern, we know the importance of making travel accessible to all, as the railway will play a key role in supporting jobs and the economy when the vaccine programme rolls out and restrictions begin to ease.
Access to information
The pandemic has made the past year an anxious time for everyone, particularly those that still had to travel, making it more vital than ever for people to have all the information they need to plan their journeys. This is even more important for disabled people as they may require extra assistance at stations, or need to make more detailed arrangements before they leave home.
In August 2020, we launched Southeastern's new capacity tool, 'SeatFinder', in response to the changing needs of our passengers. With social distancing in place, passengers wanted more information on train capacity, so they could make informed decisions about the best times to travel.
The tool, which is available on the Southeastern app, also includes the most up-to-date information on whether the train toilet is working and service data regarding lift availability at stations. These features are particularly important for those with reduced mobility.
In March 2021 we are releasing a new version of the Southeastern app, which is easier for disabled people to use. Passengers can book assistance directly with us and a new feature allows passengers to create their own profile, incorporating their assistance needs, which will automatically be included in their booking requests to save adding them in every time.
It will also detect accessibility features already set up on the user's phone that can help with certain disabilities, such as text size or background colours, and incorporate these into the app to make it as user friendly as possible. It still has other useful tools used in the current app, such as the lift availability information.
From April 2021, disabled passengers will be able to make bookings for assistance up to six hours before a journey and then from April 2022, it will reduce to two hours. This gives people that like the reassurance of booking the option of doing so, but much closer to the time they want to travel.
In two further innovations coming in over summer 2021, passengers will be able to book tickets using their stored Railcard applicable discount and load these tickets onto a smartcard, so they no longer have to queue at stations. Secondly, there will be a fault reporting function, meaning people can report station or train issues to our Facilities team and get alerts if there are any issues that could affect their journey.
Physical improvements
Every year both Southeastern and Network Rail make significant investments in stations, specifically to help people with reduced mobility. This includes improvements to handrails, highlighted stair notices and the installation of tactile paving. We also take part in the Department for Transport's Access for All programme to increase step free access to our stations. In recent years, access has been improved at 18 of our stations and we have another nine schemes in the pipeline over the next couple of years.
In addition to this investment, we are spending a further £1.5 million on physical improvements to stations in 2021 in line with our Accessible Travel Policy commitments.
This money will go towards reviewing and improving the customer journey throughout our stations; improving forecourt layouts and signage, ensuring doors and access points are easier to use, and increasing the number of our blue badge parking spaces.
Training our staff
At Southeastern, we have a dedicated workforce of approximately 4,500 people – around 3,600 of which are frontline workers. They support assisted travel on a daily basis and have continued to do so throughout the pandemic.
Ensuring rail travel is accessible to everyone is a shared goal of all our staff. This is why each and every employee, from senior management to platform staff, will be retraining on our bespoke Disability Awareness Training programme in 2021. This programme has been developed in consultation with disabled people and includes their lived experience of using the railway.
It means that every Southeastern colleague, no matter their role, will have an understanding of what issues can impact a disabled person's journey and how they can better perform their role to help them. This will involve training for frontline colleagues on how best to approach their role proactively for disabled passengers, as well as ensuring back office positions like project managers incorporate accessibility as part of their project output evaluation.
Also included in this training will be a refresher on helping passengers with non-visible disabilities. Despite the fact that a lot of our investment goes towards improving our stations and trains for those with reduced mobility, non-visible disabilities can be just as much of a barrier to travelling.
In 2019, we introduced sunflower lanyards and 'Just a Minute' cards. These recognition schemes help passengers discreetly let our staff know that they may need additional assistance. Following a successful pilot, they have been rolling out across the network since August 2020.
In addition, as part of our Accessible Travel Policy, we will be introducing a new pilot 'Rover' scheme that will see specially-trained colleagues deployed to assist disabled people across our unstaffed stations.
The need for this type of role has become more obvious while we have been running less trains due to COVID-19. We recognise the value of having specialised assistance from a trained team widely available across our network. They help people feel supported on their journey when they are social distancing and people will still want this same 'Rover' service when things eventually return to normal.
Consulting our passengers
In 2020 we also set up our 'Passenger Accessibility Panel', which helps us review and improve our practices. The panel members understand the real, lived experiences of disabled passengers who use our railway. By creating this forum, we have a direct communication channel with our passengers, helping us to provide the best service possible – especially important during these difficult times when extra support may be needed.
Through online surveys with our panel, we have been able to get valuable feedback on some of our proposed changes and how they may affect our passengers. This includes changes we have had to make at our stations and trains due to COVID-19. From this panel, we are also looking to create a smaller subgroup who will meet on a more regular basis to put forward changes and improvements directly to Southeastern teams.
We've been able to gain further insight by drawing on the advice of Andy Barrow – a triple Paralympian. He is one of our regular passengers and will be the new Chairman of our smaller Passenger Accessibility Panel. We have been working with Andy for two years as an accessibility consultant and he has been instrumental in helping us to connect the passenger requirements with the demands of the service.
He has done this by attending meetings with senior managers to help set out expectations of passengers but also through meeting directly with frontline managers and staff to help them better understand the impact their behaviours or actions can have. Staff can also ask him direct questions that they might not want to ask a passenger to clear up any misapprehensions or reduce stereotypical thinking.
As we train our staff during 2021 to support our enhanced approach to accessibility, Andy has set up a specific email address for our colleagues so that they can contact him to ask any questions they may have. This is another way for our teams to learn about the needs of our passengers and to find out what they can do to help them.
We have another challenging year ahead for the railway as we recover from COVID-19, but we are motivated to keep making the improvements needed so that our services are open to every member of the community we serve.
To see more on how Southeastern are committed to providing accessible travel to all passengers, please click here. 

Justin Ryan is Southeastern's Accessibility and Inclusion Manager and has been with the business for 25 years. He is responsible for ensuring the needs of disabled people are understood by all parts of the business to help them ensure that inclusivity is at the forefront of the decisions they make, so that travel on the network is as accessible for all as possible.