HS2 draws attention to importance of investing in essential skills
With an ageing and under-representative workforce, HS2 is working to better diversify rail in order to deliver the best high-speed rail project possible.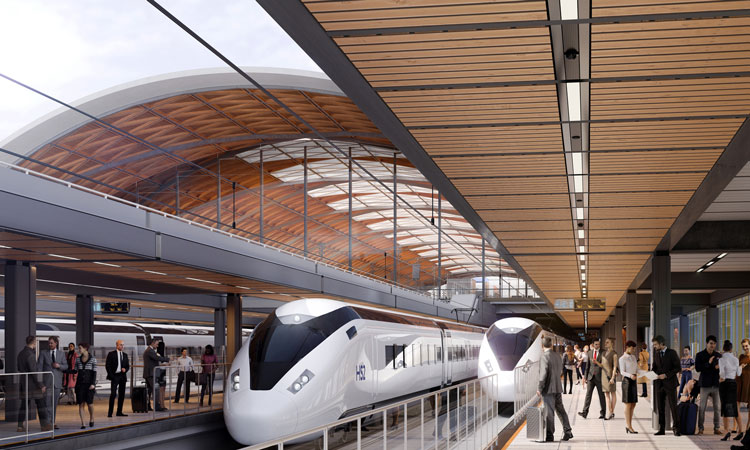 Artist impression of HS2 at Birmingham Curzon Street station. Credit: Midlands Connect
HS2 Ltd. has highlighted the importance of its workforce in times of crisis, when human skills and the ability to be able to stay positive, focused and recognise and support others makes a significant difference.
The company has said that it has been able to adapt to the changes that needed to be made quickly and efficiently in multiple ways, with major construction works still taking place at over 80 per cent of the HS2 work sites between Birmingham and London, office-based staff being supported in working from home and the communication with external partners and the community being adapted in order to hold meetings and events virtually, instead of in person.
The 'Skills Builder' model helped HS2 to embed an essential skills approach across its education and future talent programmes, with clear benefits to widening its use across the organisation. Focusing on the importance of essential skills can help to build a resilient workforce and being better equipped to adapt to the 'new normal' following the COVID-19 health crisis will be increasingly important in the months ahead.
The launch of HS2's Skills, Employment and Education Strategy in 2018 set the direction for how the company intended to make a difference. HS2 offers a once-in-a-generation opportunity to upskill the nation and ensure that people who live local to the route, and those from disadvantaged and under-represented groups, are given the opportunity to play their part in delivering such a huge feat in British engineering.
At its peak, HS2's construction will support an estimated 30,000 jobs and 2,000 apprenticeships. However, with an ageing workforce in rail engineering and a significant under-representation of women and BAME workers in the UK's construction sector, it takes a project the size and scale of HS2 to support addressing those balances.
HS2's commitment to the skills agenda is long-term, with much of its work beginning in primary and secondary schools. Over 15,000 pupils have already taken part in its STEM (science, technology, engineering and maths) workshops, which are designed to inspire the next generation to think about what is possible.
Through curriculum-based activities, which support the STEM agenda, HS2 encourages pupils to work together to succeed in using essential skills like creativity, problem solving and teamwork. For primary students, each pupil's use of essential skills is rewarded, as they collect badges and certificates for the engineering and construction-focused tasks that they successfully complete using a different essential skill.
The Head of Skills, Education and Employment at HS2 Ltd, Kate Myers, explained: "Harnessing the use of essential skills really helps to inspire young people and support their development. We work with pupils at local schools along the HS2 route to understand the link between the essential skills they are developing and how this links to future careers they may not have thought about before on major projects like HS2. Continuing that engagement with young people, through our work experience programmes, mentoring schemes, apprenticeships and attendance at job fares and careers events up and down the country helps us to keep that inspiration alive and support young people into meaningful career pathways to work on HS2, where we continue to invest in their essential skills."
Recognised essential skills models are embedded into all stages of learning, development and future talent programmes at HS2 Ltd, encompassing everything from its two-year apprenticeship and graduate programmes, to its work with recognised charities like the Social Mobility Foundation, where HS2 employees actively support high attaining pupils from disadvantaged backgrounds to develop the essential skills needed for higher education and progression into professional careers.
With over 350 apprentices already having worked on the HS2 programme, and recruitment underway for more apprentices and graduates to join in late 2020, HS2 has emphasised that it recognises and values the importance of investing in young people, bringing them into the business at the early stage of their career and continuing to invest in their essential skills. And as young people will be amongst those most adversely impacted by the COVID-19 pandemic across education and employment, HS2's ability to continue creating new opportunities for years to come is really important.