Great Northern's Hertfordshire trains save over 4,000 tonnes of carbon emissions
After being in operation for a year, Great Northern's Class 717 trains have enabled significant carbon emission savings across the Hertfordshire network.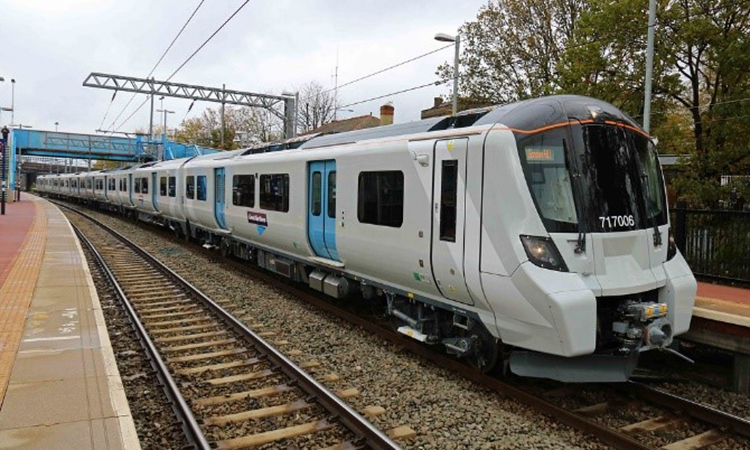 Credit: Govia Thameslink Railway - Great Northern's Class 717 train.
New trains operated by Great Northern, the UK train operator, in Hertfordshire have already generated enough electricity through their brakes to power the equivalent of all the households of Welwyn and Hatfield Borough for a month, potentially saving more than 4,000 tonnes of carbon dioxide emissions.
The 25 new Class 717 trains have completely transformed travel for Great Northern's passengers travelling between London Moorgate and Stevenage, Hertford North and Welwyn Garden City. Featuring air conditioning, Wi-Fi, real-time information and power sockets at every seat, they replaced one of the UK's oldest National Rail electric train fleets. Passenger satisfaction soared by 22 percentage points as a result.
The new trains (like the Class 700 trains used by Thameslink) are 20 per cent lighter than the previous generation. This causes much less wear and tear to the tracks and, combined with the trains' regenerative braking system, makes them 33 per cent more energy efficient than the old trains. In their short life to date, they have already generated 17 million kWh.
Great Northern's Managing Director, Tom Moran, said: "Our new trains have transformed our passengers' journeys by replacing their cramped, outdated 42-year-old trains with fully-accessible, spacious, modern air-conditioned units with the latest in passenger information, on-board Wi-Fi and power points at every pair of seats."
"Hidden away, underneath the carriages, electric motors help the trains brake, feeding the energy back into the network for use by other trains. That technology has already generated 17 million kWh – enough to power the homes of Welwyn and Hatfield Borough for more than a month, potentially saving more than 4,000 tonnes of carbon dioxide emissions. With all of our managed stations now using energy generated from a clean, renewable source, passengers can travel safe in the knowledge they are doing their bit for the planet," he added.
Catherine West, MP, said: "These new trains that Great Northern has brought in have made a huge difference for commuters. They are modern, spacious and air-conditioned, but, best of all, they are much better for the environment. I am very pleased to learn how much energy they generate and how many tonnes of carbon dioxide that could be saving."
Electric trains are considered to be the most sustainable form of public transport, and those with regenerative braking have even better 'green credentials'.
The new Class 717 Moorgate fleet completed a £2 billion fleet modernisation programme by parent company Govia Thameslink Railway (GTR), which also brought in 115 new Thameslink trains and new Class 387 carriages for the Gatwick Express and Great Northern, all with regenerative braking.
All of these new trains, combined with the regenerative braking of other Southern Class 377s, mean that GTR's fleet has generated more than 183 million kWh in the past 12 months, potentially saving more than 43,000 tonnes of carbon dioxide emissions.
GTR has diesel trains on just two routes, both run by Southern Rail: the Marshlink line between Ashford and Hastings, Kent, and the Uckfield line in East Sussex. GTR is supporting Network Rail as it studies the feasibility of electrifying these routes and identifies back-up alternatives, such as battery power, to achieve a zero-carbon solution.