HS2's additional capacity will boost and expand UK rail freight
The new high-speed line will enable more freight to travel by rail, reducing carbon emissions from transport as each freight train removes up to 76 lorries from the roads.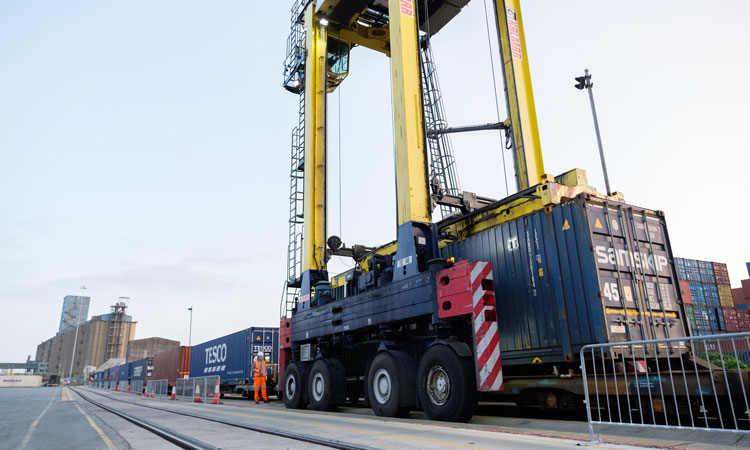 HS2 Ltd has released a new video highlighting how the additional capacity HS2 will create on Britain's existing rail network will benefit UK ports and distribution centres that use rail freight for the movement of goods.
Filmed at the Port of Tilbury in Essex, the video shows how additional network capacity for rail freight is essential for Britain's low carbon future, as transporting goods by rail creates 76 per cent less carbon dioxide emissions than equivalent road journey.
HS2's brand new track and fast inter-city passenger services frees space on the existing railway network for more freight by rail, taking lorries off the roads and reducing carbon emissions. By putting direct inter-city services on dedicated high-speed lines, HS2 will create more space on the existing railway for Britain's growing rail freight sector.
The Port of Tilbury is the largest port on the River Thames spanning 1,100-acres and incorporating the London Container Terminal and a new port complex, Tilbury2, which together handle over 500,000 containers and trailers per year for import and export. Tilbury2 also has a dedicated construction material and aggregates terminal (CMAT), capable of handling in excess of five million tonnes of bulk product per annum. With the development of Tilbury2, including its two rail terminals capable of handling the longest freight trains, the port has scope for significant increases in both unitised and bulk cargo flows.
The Port currently welcomes daily rail services to major retail distribution centres and customers in the Midlands, the South West, Wales and Scotland. The trains then return with British products for distribution around London and the South East and exported by ship around the world.
From everyday goods to construction materials, more than £30 billion worth of products are distributed by rail in Britain every year. The Port of Tilbury has invested around £23 million in new rail-related infrastructure over the last couple of years to help expand their capacity to deliver more freight by rail.
With logistics companies striving for a green recovery from the COVID-19 pandemic, and extra enquiries coming in as customers see rail as part of their supply chain decarbonisations plans, HS2's capacity benefits will allow ports and distribution centres to offer more rail slots to their customers on the existing network. The Port of Tilbury anticipates the amount of materials moved by rail to increase by 900,000 tonnes per annum within the next five years.
Related organisations
Related regions