Alstom's first France-Germany cross-border train begins certification and approval tests
The first of 30 new cross-border trains, which will operate between France and Germany, has begun testing for certification and approval, with the aim of beginning operation in 2024.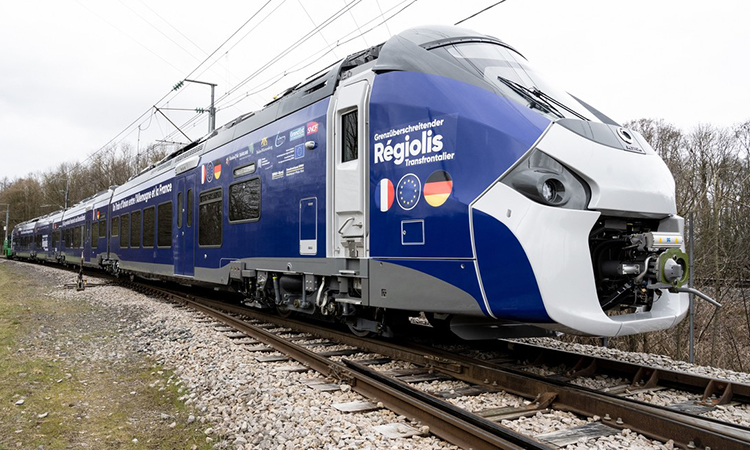 Credit: Alstom/ Frédérique Clément
Alstom has announced that the first pre-production Coradia Polyvalent France-Germany cross-border train left the Alstom Reichshoffen site on 12 May 2021 for the DB Systemtechnik test centre in Minden (Germany), where it will undergo its first tests for certification and approval.
Mechanical tests will be conducted to check how the train behaves in curves. It will then go to the Velim test centre (Czech Republic), where it will undergo traction, braking, electro-magnetic and acoustic stress tests. Testing on the German commercial network will begin in spring 2022.
The Certification & Validation teams at Alstom's Reichshoffen site will work closely with their partner, DB Systemtechnik, throughout the entire process of certification testing of the new train, which will last two years. The approval and certification documentation will then be submitted to Certifer (France) and AEbt (Certifer's German subsidiary), which will ensure that the results comply with European railway norms (Locomotives & Passengers and PRM 2014 TSI).
In October 2019, SNCF and the Grand Est region (France) ordered 30 Coradia Polyvalent cross-border trains with financial support from the German states of Saarland, Rhineland-Palatinate and Baden-Württemberg, as well as European ERDF funds from the INTERREG V Upper Rhine Programme as part of an exemplary cross-border partnership.
These four-car trains, which are dual mode (electricity-diesel), dual voltage (25 kV / 15 kV) and are equipped with the bi-standard European Rail Traffic Management System (ERTMS) KVB system, supplemented by the PZB STM specific to the German network, will run at speeds of up to 160 km/h, serving the three states.
The 30 Coradia Polyvalent cross-border trains will offer a first-class zone and a dedicated area for bicycles. They will incorporate the new LOC & PAS and PRM 2014 standards, notably offering more spacious toilets to facilitate travel for passengers with reduced mobility (PRMs).
The first cross-border trains, designed and assembled at the Alstom Reichshoffen site, will be delivered at the beginning of 2024.