HydroFLEX train now ready for the next stage of its journey
Britain's first mainline-approved hydrogen-train has been operating at Glasgow's COP26 to demonstrate its role in driving the green industrial revolution.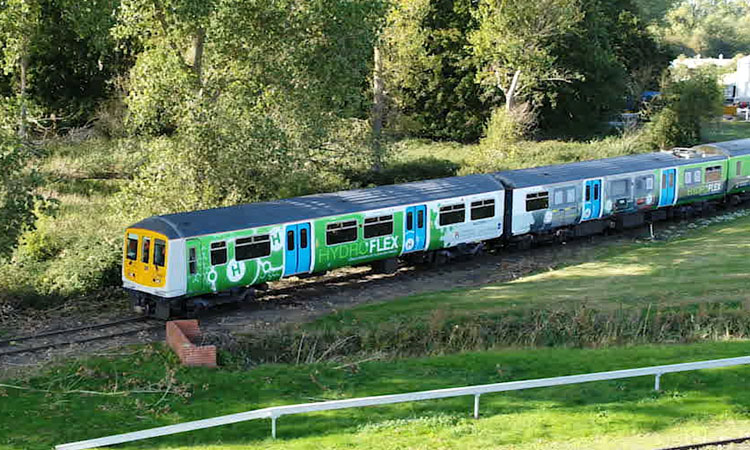 Developed by engineers in the University of Birmingham's Centre for Railway Research and Education (BCRRE), in partnership with rolling stock owner and asset manager Porterbrook, the HydroFLEX train is now ready for the next stage of its journey providing zero-emission passenger transport services.
Experts at BCRRE have been involved every step of the way in the design and development of the hydrogen technology and its application to the railway. Since HydroFLEX was first conceived in 2018 the project has developed rapidly from the collaboration agreement in September 2018 to full mainline test runs in September 2020.
In just three years the team (with funding from Innovate UK) have developed and proved the detailed design of a fully functional hybrid hydrogen fuel cell system and battery system on board the train. They were able also to design the architecture of the power control system which operates the fuel cell and energy storage system in an optimal manner. More recently the team have worked to modify the design of the hydrogen powerpack enabling it to be fully integrated into the train system.
Alex Burrows, Director of Enterprise & Innovation at BCRRE, said: "Hydrogen and battery technology, as demonstrated on our HydroFLEX train, is key to supporting the UK's plans for a Green Industrial Revolution and delivering on our Net Zero commitments. This project has showcased our capabilities at the University and our technology is now proven, demonstrating that we can rapidly decarbonise the railways.  We are thrilled to be able to share this progress at the United Nations COP26 Climate Change Summit."
At COP26, the Prime Minister, Boris Johnson, was welcomed to Glasgow Central station by Network Rail Chief Executive, Andrew Haines, and given a tour of the HydroFLEX.
The HydroFLEX project is also at the heart of the West Midlands Region's commitment to build a zero-emission transport system. Andy Street, Mayor of the West Midlands, said: "The West Midlands region was at the heart of the first steam and coal industrial revolution. In paying back that debt we are making a big commitment to green and low carbon technologies and transport, making the West Midlands 'Home of the Green Industrial Revolution'.
HydroFLEX also draws on expertise from a wide number of industrial partners. This collaborative success story is now well on course to make a significant contribution to the government's rail decarbonisation aims.
Beyond HydroFLEX, researchers at BCRRE are identifying other areas where their hydrogen fuel expertise can be employed to deliver low carbon transport globally.  One project already underway will see the team developing new traction systems for sustainable railways in low-income countries in Sub-Saharan Africa.
Clive Roberts, Head of the School of Engineering at the University of Birmingham, said: "With HydroFLEX we have been able to demonstrate the massive potential for hydrogen-fuelled green rail transport – but the story doesn't end with the commercial success of HydroFLEX. We are already looking, for example, at technologies – including hydrogen – that can deliver sustainable rail travel in low-income countries. As diesel is phased out across transport networks globally, we need to find new possibilities that will be cost-effective and enable low-income countries to develop and adopt sustainable technologies."