Top signalling technology Class 180 train delivered to Grand Central
Angel Trains Ltd has delivered the first UK Designated Body (DeBo) certified Class 180 train fitted with the new European Train Control System (ETCS) to Grand Central in readiness for the introduction of the digital signalling system on the East Coast Mainline.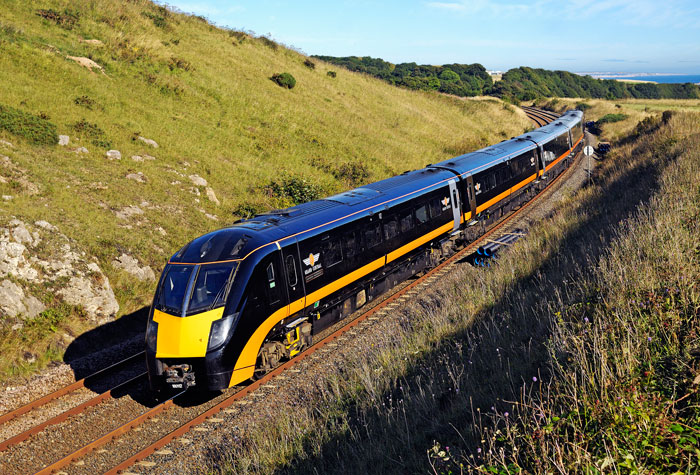 Best in Class 180
Fitted by Alstom at Arriva TrainCare in Eastleigh, the new Baseline 3 Atlas 200 system is the rail industry's 'best in class' signalling technology designed to increase both operational capacity and passenger safety. The success of this key milestone has been achieved through close collaboration between Grand Central Rail, Alstom and Angel Trains throughout the design and installation process. Grand Central intends initially to roll out the train-borne technology on ten Class 180 trains and the system will undergo a phased development and testing programme that will see it fully authorised for Baseline 3 R2 operation in 2019.
The Class 180 train was fitted with ETCS under the European Rail Traffic Management System (ERTMS) rollout programme, funded by Network Rail and managed by the National Joint ROSCO Project. It forms part of the UK's Digital Railway vision that will help to deliver additional route capacity in the UK.
Accelerating digital improvements across British railways
Today Britain's railway carries twice as many passengers as it did just two decades ago with demand set to rise dramatically in the coming years. Digital Railway is the industry's improved plan to tackle the capacity crunch by accelerating digital modernisation of the railway, offering capacity and performance improvements sooner, at lower cost and with less disruption than conventional enhancements.
Mark Hicks, Technical Director at Angel Trains, said:
"Working with our partners across the industry, we are delighted to deliver the first of our ETCS- enabled Class 180 trains to Grand Central for operation on the East Coast Mainline. The UK has one of the safest railways in Europe and Angel Trains is pleased to support this European initiative, which we believe will build on this safety record and enhance efficiency of our trains. Where possible, the system will continue to be installed on the wider Class 180 fleet for the Grand Central by 2019."
Nick Crossfield, Managing Director, Alstom UK & Ireland, said:
"The Class 180 trains already run one of the fastest timetabled diesel services, and now with in-cab signalling, there is potential for even better performance. It's the close collaboration between Grand Central, Angel Trains and Alstom that has ensured the installation of the Atlas ETCS system was a success. Together, we have taken a major step towards delivering the Digital Railway. We look forward to starting work to fit the rest of the fleet."
Class 180s are diesel multiple unit trains able to run at 200km/h and are operated by Grand Central on the East Coast Mainline.