Trainline launches the UK's first ever ticket price predictor
Trainline has launched the UK's first ever train ticket price predictor though its app.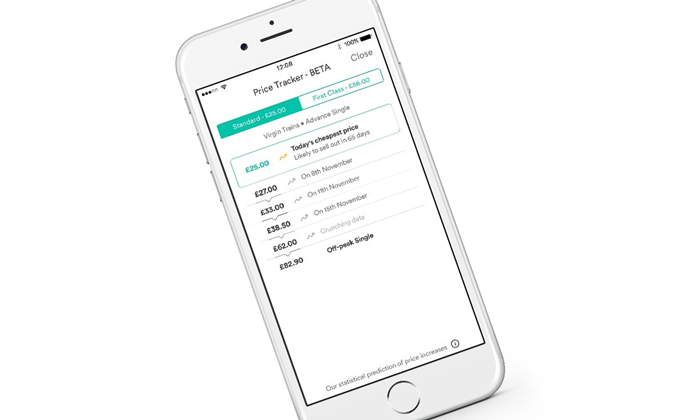 Passengers currently save an average of 43% on advance fares (versus the cheapest non-advance fares), however billions of price prediction data points show that if customers bought their advance ticket on the day they first searched for their journey, they would save an average of 49% – and could save more by booking even earlier.
Trainline's Price Prediction allows train travellers to look into the future and see when advance ticket prices are set to increase over time. It uses billions of data points to predict when advance train tickets are set to increase in price over time.
The new tool gives customers an at-a-glance snapshot of all the opportunities to save money when buying advance tickets in the months and days leading up to travel.
"Our data scientists have used historical pricing trends from billions of customer journey searches to predict when the price of an advance ticket will expire," said Jon Moore, Chief Product Officer at Trainline. "We now share this information in our app to allow our customers to get the best price possible for their journey. Our mission is to make train travel as simple as possible and price prediction is the first in a long line of predictive features we have planned to help customers save time and money."
The new tool is the latest in a series of smart features for travellers in the Trainline App and follows the launch of BusyBot which uses crowdsourced data to identify the quietest parts of the train and help customers find a seat.
Mobile tickets (on which Trainline is working closely with the industry to meet the government's target of 100% availability by the end of 2018) help customers save time queuing to collect at the station. Furthermore, real-time travel information including platform numbers and journey/delay information allows travellers to be in complete control of their journey, on-the go.
Price Prediction is available for single advance ticket fares in the Trainline App for all iOS and Android devices.
Related organisations
Related regions