Greater Anglia welcomes brand-new FLIRT trains to service
The first of Greater Anglia's brand-new Stadler FLIRT trains has entered passenger service; the trains are more reliable and have better passenger facilities.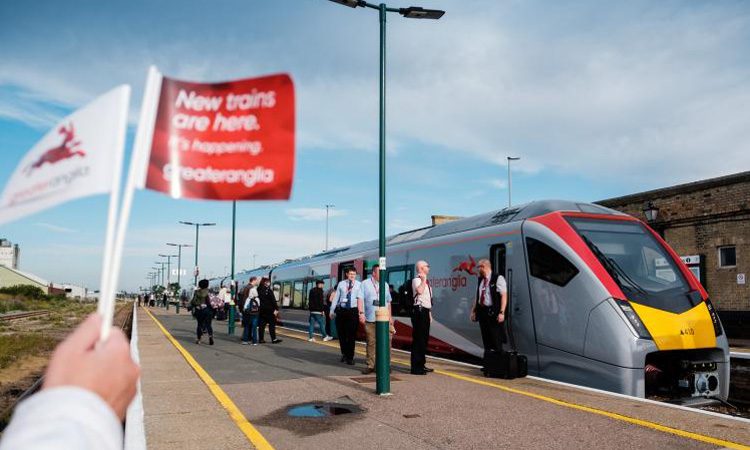 Greater Anglia is set to receive 38 regional bi-mode trains, which switch between electrical and diesel power, from Stadler. Every train is longer, with more seats, and other features including air conditioning, plugs and USB points and improved accessibility.
They will also improve reliability and resilience with three and four carriage trains replacing a fleet of one, two and three carriage trains, many of which are nearly 40 years old.
Thomas Ahlburg, Group Chief Executive of Stadler, said: "The roll-out of the new trains into passenger service is a momentous occasion not just for our business, but for passengers and local communities alike.
"The contract, signed less than three years ago, was our first for mainline rolling stock in the UK. It signified our entry into this important market and blazed a trail for orders secured subsequently for the Liverpool City Region and Wales and Borders."
In the early stages of the roll-out, a small number of services between Norwich and Great Yarmouth and Norwich and Lowestoft will be operated by new trains, followed by some services between Norwich and Cambridge. It should then gather pace and the majority of the regional bi-mode trains should be in service by the end of 2019.
They will be maintained at Norwich Crown Point depot, which is benefiting from a £40 million upgrade to prepare it as the base for the new regional, intercity and Stansted Express trains.
Autumn 2019 will see the first new intercity train enter service and the first suburban train, built by Bombardier, is also due to enter service later this year.
The bi-mode trains are part of a £600 million investment in new Stadler trains for the region which have been financed by Rock Rail East Anglia and will be leased to Greater Anglia for the life of the franchise.
Mark Swindell, Chief Executive Officer, Rock Rail, said: "Rock Rail is delighted to see the second of its fleets enter passenger service and mark the start of a step change in the travel experiences for rail passengers across Greater Anglia. It follows the introduction of Rock Rail's first fleet on Great Northern routes earlier this year.
"These new, state-of-the-art trains for Greater Anglia are some of the first to enter service in the UK financed through pension funds and insurance companies. This long term, highly competitive funding enables significantly better value for money to rail passengers and tax payers over the life of the trains, along with significant improvements in passenger, environmental and operational features."
Secretary of State for Transport, Grant Shapps, said: "This is an exciting time for passengers on Greater Anglia, with the arrival of modern, spacious and accessible new trains helping to transform journeys and boost business and tourism.
"As we invest a record £48 billion to modernise our rail network, we are seeing the introduction of thousands of new trains right across the country, enabling faster, greener journeys that benefit local communities and the environment."