ATO test train transports passengers in the Netherlands for the first time
The test marks the first time passengers have been on-board an ATO train in the Netherlands, which can accelerate and brake automatically.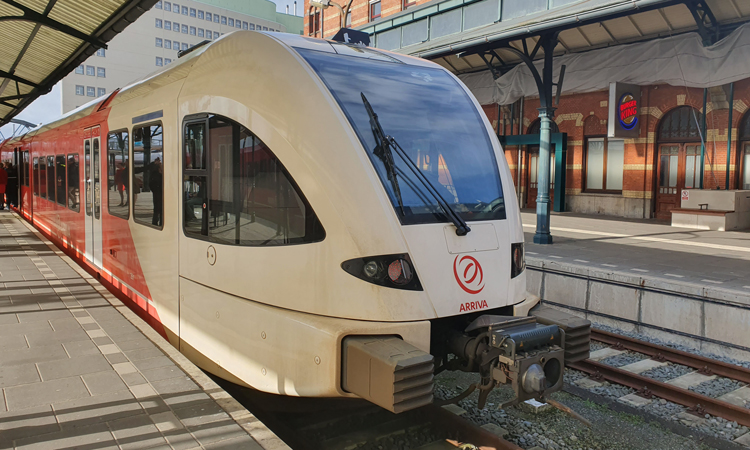 Stadler, together with ProRail, The Provincie Groningen and Arriva Netherlands, have transported passengers on an ATO (Automatic Train Operation) test train for the first time.
The test train took a group of VIPs, made up of 50 local and national dignitaries, on a trip in the Groningen area of the Netherlands.
The ATO train can accelerate and brake automatically, operating under a train protection system and driver supervision to guarantee safety at all times.
The train ran in Grade of Automation (GoA) 2, which means that it moves automatically and stops precisely at a platform, based on the journey profile provided by ATO trackside. The train is a diesel-electric powered GTW, manufactured by Stadler and provided by Arriva Netherlands.
Testing in the Groningen area started in October 2019 and comprises three parts. The current phase, part 2, involves passengers travelling on an ATO train. The aim of the project is to evaluate the human factors of ATO usage. The project also determines the potential increase in track capacity as well as saving energy, and assesses stop precision, punctuality, speed, safety and comfort.
ATO can alleviate congestion, make journeys smoother and ensure a more reliable service for customers. It allows trains to travel more closely to each other than otherwise. It also saves energy, as trains can travel at the optimal speed, with braking being adjusted accordingly.
This week, the partners are running a few test trains specifically for the general public, allowing them to experience first-hand what it is like to travel on an ATO train.
"This is a very exciting project, and we are pleased that the tests have gone well," commented Siddhant Tomar, Chief Technology Officer at Stadler Signalling. "The Stadler ATO system is one of the most innovative technological steps in the industry. It meets our customers' expectations and paves the way to a digitalised railway."