Rail's role in the future of zero carbon transport in the UK
Transport is currently the largest contributor to UK greenhouse gas (GHG) emissions and, as a result, decarbonisation is a key priority for the industry. In July 2021, the UK government published its Transport Decarbonisation Plan (TDP) – its 'greenprint' – detailing the steps needed for transport to become a net zero industry. Included in the plan were all sectors of transport, including road, rail, air and maritime, and it reinforced the role each sector has to play in decarbonising transport as a whole, and encouraged a multimodal approach. In this article, Alex Veitch, General Manager of Public Policy at Logistics UK, will focus on rail's role in the future of zero carbon transport.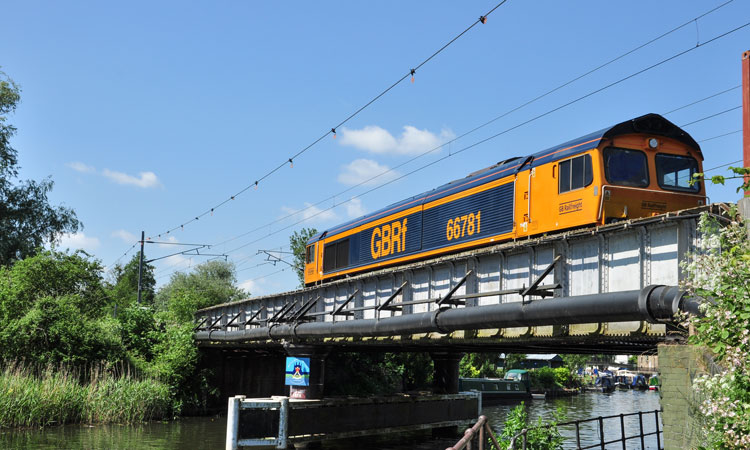 As part of the UK government's new environmental plan, the Department for Transport (DfT) has committed to delivering a net zero railway network by 2050, with policies to incentivise the take up of low carbon traction by rail freight operators along the way, an aim supported by Logistics UK and its members. It has also revealed ambitions to remove all diesel-only trains – both passenger and freight – from the network by 2040.
Electrification
Accounting for around one per cent of domestic GHG emissions by transport mode in 2019, rail has a significant role to play in zero carbon transport as the country moves towards its net zero goal. As stated by the DfT in the TDP, rail is currently the only means of transporting heavy goods in a low-carbon way using existing, proven technology through electrification. In the last three years, the DfT has completed almost 700 track miles of electrification across England and Wales, and with almost 38 per cent of the network now electrified, rail is currently the greenest form of motorised transport. Furthermore, according to the TDP, electric locomotives cost less to operate and could also reduce journey times as electric traction provides quicker speeds and better reliability than diesel fuelled services.
Logistics UK has urged government consistently to begin a rolling programme of electrification to help deliver net zero ambitions, as well as support further private sector investment and has previously explained how electrifying short gaps in the network would join routes up and immediately support an increase in the use of electric traction. The business group is thrilled that the TDP notes further electrification projects are to be announced shortly and also mentions how infill electrification projects could deliver benefits quickly.
Rail freight growth
While the rail sector's role in achieving the UK's decarbonisation targets is vital, currently, capacity for freight services is severely constrained. Logistics UK welcomes the introduction of a rail freight growth target – as initially mentioned in the Williams-Shapps Plan for Rail and reinforced in the TDP – to encourage growth of the sector and increase the modal shift from road to rail, leading to a reduction in GHG emissions. Each freight train is able to remove up to 76 HGVs off the UK's roads, with rail freight currently removing around six and a half million lorries from the road each year. Furthermore, moving goods by rail, using diesel locomotives, currently saves 76 per cent carbon per freight tonne mile compared to using road. And, as electric freight trains produce 60 per cent less carbon emissions than diesel trains, their use could result in a 90 per cent carbon saving per freight tonne mile, compared to road. It is also reassuring to note that DfT is looking to electrify gaps to key ports and terminals, which will further encourage a greater modal shift.
Furthermore, government has noted within the TDP that building extra capacity on our rail network to meet growing passenger and freight demand will also support significant shifts from road to rail, further improving a reduction in GHG emissions. A clear example of this is HS2, which has the capacity to free up space on the existing rail network for up to 144 extra freight trains per day.
Alternative traction power
While electrification is vital, alternative traction power – such as battery and hydrogen trains – will also play a key role in less used parts of the network, due to the high cost of installing electrification. Technology is progressing rapidly; in September 2020, Britain's first hydrogen powered train made its debut journey, with aims for it to begin carrying passengers by the end of 2021. It will, however, be interesting to see how suitable these technologies will be for heavier freight trains, or whether their use will be focused for passenger travel.
A cleaner, greener railway
Published alongside the TDP was the DfT's 'The Rail Environment Policy Statement: on Track for a Cleaner, Greener Railway'. This document further details government's direction for the rail industry on environmental sustainability and recognises that for rail to be truly net zero, any fuels used across the network must be sourced renewably and any associated infrastructure, such as depots, stations and terminals, must also be zero emission, a view that is mirrored by Logistics UK. The statement, along with government's TDP, provides the clarity and certainty industry needs. Logistics UK supports the publication of these documents and recognises the important role rail plays in the decarbonisation of transport. The business group looks forward to continuing its work with government, and members, to ensure the sector's successful decarbonisation by 2050.
Logistics UK
Logistics UK is one of the UK's leading business groups, representing logistics businesses which are vital to keeping the UK trading, and more than seven million people directly employed in the making, selling and moving of goods. With COVID-19, Brexit, new technology and other disruptive forces driving change in the way goods move across borders and through the supply chain, logistics has never been more important to UK plc. Logistics UK supports, shapes and stands up for safe and efficient logistics, and is the only business group which represents the whole industry, with members from the road, rail, sea and air industries, as well as the buyers of freight services such as retailers and manufacturers whose businesses depend on the efficient movement of goods.

Alex Veitch has both an environmental and a logistics background, and has held project management, advocacy and management roles in the environmental non-profit, government agency and railway sectors during his career in the UK and overseas.