Stadler completes Greater Anglia contract by delivering all 58 trains
The majority of the trains are now in passenger service on the Greater Anglia network, with the last 11 trains currently undergoing final testing.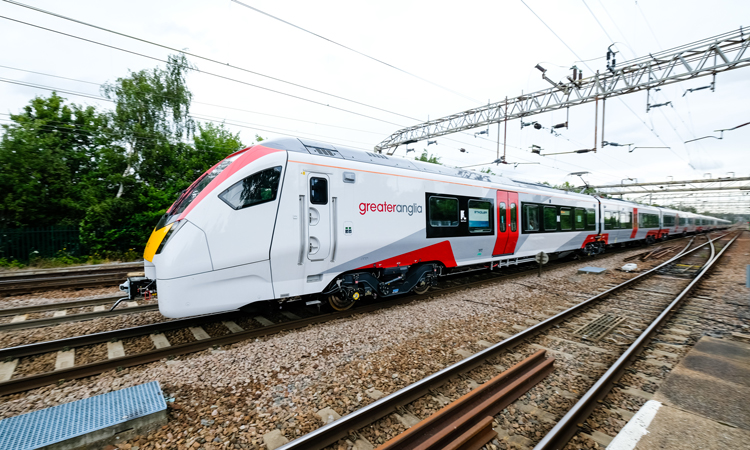 Credit: Stadler
In just over three years since signing the contract, Stadler has announced that it has successfully built and supplied all 58 trains for the Greater Anglia network. The order, secured in 2016, comprised of the delivery of 38 bi-mode trains and 20 electric trains. The contract was Stadler's biggest in the UK, and paved the way to winning subsequent UK bids, including the Liverpool City Region, Wales & Borders and, most recently, for the Tyne and Wear Metro.
The majority of the trains are now being used in passenger service, with the rest set to be introduced from the summer of 2020. The roll-out began less than a year ago with the bi-modes. In January 2020, the electric trains started being introduced.
The 38 bi-modes serve rural routes and operate from key towns on the network, including Norwich, Ipswich and Cambridge. Of the 20 electric trains, 10 are for the intercity route between Norwich and London Liverpool Street. The other ten are for the Stansted Express service between London Liverpool Street and Stansted Airport.
Twenty-four of the bi-modes are made up of four-carriage trains, with the remaining 14 made up of three carriages. Powered by diesel and electricity, they have replaced all of the diesel trains formerly used on Greater Anglia's rural routes, promoting more sustainable travel. All 20 of the electric trains have 12 carriages.
The new state-of-the-art trains are transforming rail travel in the East Anglian region. They are longer, with more seats, air conditioning, fast free Wi-Fi, plug and USB points, dedicated cycle spaces and improved passenger information screens. Interiors, which are light, bright and with wider aisles, reflect a continental approach to design.
Trains are much more accessible, thanks to the new sliding step at all doors, which bridges the gap between the train and the platform. This technology makes it much easier for people with limited mobility – in wheelchairs or with pushchairs – to get on and off, dramatically improving the passenger experience.
These trains are among the first in the UK to be financed with a long-term investment from pension funds and insurance companies through Rock Rail East Anglia, a joint venture between Rock Rail, Aberdeen Standard Investments and GLIL Infrastructure.
Managing Director of Greater Anglia, Jamie Burles, commented: "Our transformation of the railway in East Anglia is gathering pace. Our regional routes are now entirely operated by our Stadler bi-mode trains and we are now using Stadler electric trains on our intercity services. These longer trains, with more seats, better passenger information screens, fast free Wi-Fi, plug and USB points and improved accessibility features, are providing our customers with a much better travelling experience."
Jamie continued: "At the moment, we are discouraging people from travelling, as train travel is only for essential journeys – such as key workers going to and from work – but we hope that, once COVID-19 is under control, more people will come and explore our beautiful region on our brand new trains."
Ralf Warwel, Sales Director for the UK and Ireland at Stadler, added: "Reaching this landmark event demonstrates how far we have come in this major project, which has been a three-way partnership for Stadler, Greater Anglia and Rock Rail East Anglia. These hi-spec trains boast innovative, sophisticated design and technology for the benefit of passengers. We are confident that the travelling public and stakeholders alike will recognise the expertise, quality and craftsmanship that's gone into them, and that they will delight passengers for decades to come."
Testing is continuing on the final 11 trains, a combination of bi-modes and electric trains. Once they have successfully passed all safety tests and are fully authorised and accepted, they will be ready to enter passenger service. At that point, all 58 trains that were originally ordered will be certified to operate on the Greater Anglia network.