Stadler wins contract to refit Arriva Nederland trains with ETCS GUARDIA
The contract represents the first time that Stadler has won the opportunity to refit trains with its own ETCS system, GUARDIA.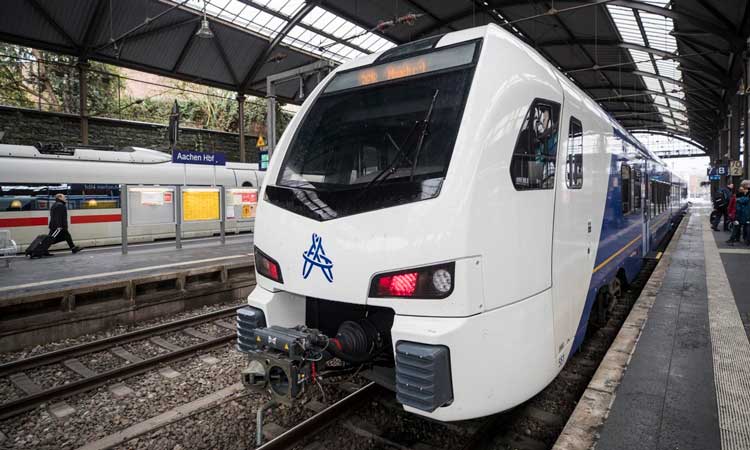 Credit: Stadler
Stadler has announced that it has signed a contract with Arriva Nederland to refit 36 FLIRT trains with its European Train Control System (ETCS) automatic train protection system, known as GUARDIA.
The fleet of 36 trains includes eight trains that are dedicated to cross-border operation and have already been used on the international train line RE18 in Limburg. As a result, the homologation of the system in the countries served by RE18 – the Netherlands, Belgium and Germany – is a part of this contract. 
Arriva is the first carrier for regional transport in the Netherlands to to sign a contract for the installation of the ETCS system in its trains and order the system to make its trains suitable for the European Rail Traffic Management System (ERTMS). The assignment will be executed by Stadler between 2020 and 2024, with the first trains set to be ready for use in 2022.
It is the first time for Stadler to win a contract to refit trains with its own ETCS system, with the installation of GUARDIA into the trains to be carried out at Stadler's service centre in the Netherlands. 
Director of the Service Division at Stadler, Jürg Gygax, said: "We're proud that we have been trusted with this project. Refitting trains with GUARDIA and the homologation of our ETCS system in three countries is an important milestone for both our service and signalling business. We look forward to the continuation of our long-term partnership with Arriva in the Netherlands."
Anne Hettinga, Chairman of the Executive Board of Arriva Nederland, said: "With this agreement, Arriva Nederland underlines the importance of values like safety and innovation. It is great to be a leader in this national and European program as a provider of regional public transport."
ERTMS refers to the modern European standard for automatic train control, which facilitates harmonisation throughout Europe. It is a combination of a system in the train (ETCS) and in the underlying track. It further increases the safety and efficiency of train traffic and facilitates the crossing of national borders. Stadler's ETCS system, GUARDIA, involves the installation of both hardware and software on the train, allowing the train driver to visualise the train's position, speed and additional data, with all these details transmitted to the control centre. Data such as track warrants can be obtained at the same time.