Virtual ticket agents help Greater Anglia passengers at ticket machines
Rail passengers in East Anglia, if struggling with the machine, can now press a button which will put them through to a real person who can help buy tickets and find the best fares…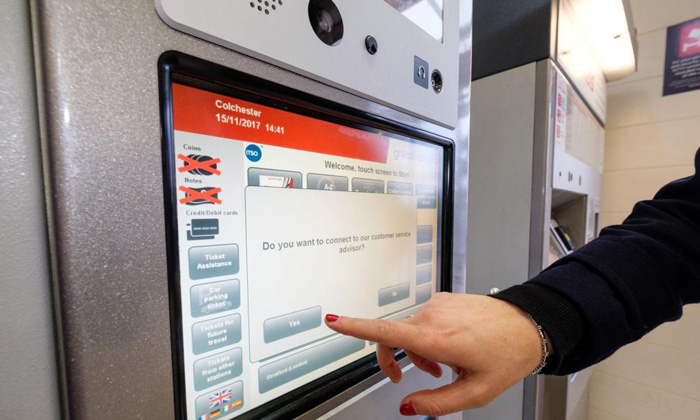 Greater Anglia is the first train operator in England to roll out Scheidt & Bachmann's FareGo ViTA 'virtual ticket agents' across all its existing ticket machines. Passengers can connect to a real person via an audio link who can offer help whilst they buy their train tickets.
196 ticket machines at stations across the Greater Anglia network have been upgraded with a speaker and microphone and their software and application have been updated. Each one is connected to a central in-house call centre, staffed by 13 Greater Anglia ticket sellers in Essex, which operates 24 hours a day, seven days a week.
Simply pressing the ViTA button on the machine connects the user to a call centre agent who can give help and advice on the various tickets. Two-way audio connection will be established so that the customer and ticket agent can talk. The ticket agent can also remotely control the machine on behalf of the customer if required.
Andrew Goodrum, Greater Anglia's Customer Service Director commented: "We know that customers sometimes feel apprehensive about buying tickets from a machine as they are unsure of how it works or which is the best ticket for their journey, so being able to connect straight to a friendly voice who can help will really improve the service we offer. We hope it will result in ticket machines being used more, helping to reduce queuing time at ticket offices and offering customers a better level of customer service, enabling them to buy with ease and confidence."
The initial pilot phase of the machines received over 8,000 calls; 250 per day on average. 30 per cent of these came from London Liverpool Street Station. There will now be a 12-week testing phase with all Greater Anglia's ticket machines.