Passenger assistance to be transformed across Britain's rail network
A new smartphone app, currently being trialled by four train companies, will make it easier to book assistance at stations and receive a more consistent, reliable service.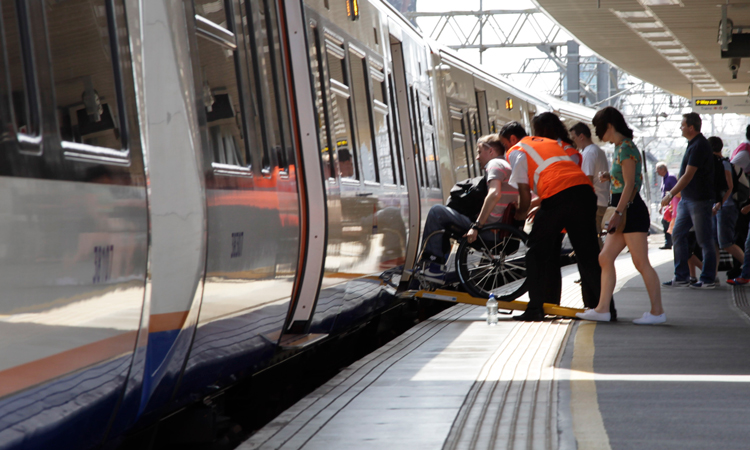 Credit: TfL
In a first for Britain's transport sector, the rail industry is pressing ahead with an app that will transform the way that passengers with reduced mobility can book assistance when they travel by train.
This is expected to make it easier, less stressful and less likely to go wrong. 
Currently, customers can book in a number of ways (including by phone or online), but it is a time-consuming process where they must provide contact details and specify the required assistance every time. Station staff then receive a printed list of booked assistance each morning, which means when plans change, for example if trains are delayed or the customer misses their booked train, there is no way to update the list and staff can end up in the wrong place at the wrong time. The new system will resolve these issues.
The vast majority (85 per cent) of customers are satisfied with passenger assistance according to the Office of Rail and Road (ORR), but when things go wrong, customers can end up without the assistance they were expecting or unable to travel at all.
Robert Nisbet, Regional Director at the Rail Delivery Group, said: "We know we've got to do better to improve rail's accessibility. We want everyone who has requested assistance to get the help they need, which is why we're investing in this pioneering technology that has the needs of our customers at its heart. A few taps of the app will give customers more control, help our staff do their jobs better and deliver on the commitment in our long-term plan to enable more people to benefit from travelling by train."
The new Passenger Assist app, developed by Transreport, will tackle these problems and help rail companies to enable more people to benefit from train travel. The app will enable customers to book, change and cancel assistance quickly, which can currently take up to 40 minutes over the phone and allows customers to create a user profile, specifying their personal details and the type of assistance they need, so recurring bookings become quicker.
Staff will be provided with live information, including key details about the customer and their journey, so that they can provide a better service and accommodate short-notice requests. Better staff communication will enable staff to anticipate and deliver changes in planned assistance.
The app will be rolled out in autumn 2019 once a staff version has been launched in April 2019. It has been developed in collaboration with disability charities including Disability Rights UK, Blind Veterans UK and Anxiety UK and includes accessible features, such as the ability to change colour themes, fonts and text sizes. 
Paralympian Anne Wafula-Strike MBE, who has previously campaigned for better accessibility on the railway, said: "Although passenger assistance usually works, I've had awful experiences when it has failed so it's great to see the rail industry addressing this and planning to change and improve for the benefit of disabled people. The app will make it so much easier to get assistance, and more importantly it will empower disabled people to travel without any fear. This is truly inclusion."
West Midlands Railway, London Northwestern Railway, Greater Anglia and South Western Railway are trialling the system to ensure it works effectively before it is used more widely across the network. 
Sarah Ward from Shrewsbury, who uses a wheelchair due to a neurological condition and has Asperger's Syndrome, has been trialling the app since May 2018. She said: "For me, the current system of booking assistance in advance is really frustrating. Whilst staff are generally really helpful, it's not very flexible and it often feels like I have to fit into the system, rather than the system working for me.
"With the app, I've found everything so much easier. It's great being able to do things, on the spot, literally at the touch of a button. I think that the app provides a really positive step in opening up rail travel to disabled people. It has enabled me to be much more flexible with my travel plans and it's given me much more confidence in making journeys."