Ferrovienord order 31 regional trains from Alstom for Lombardy Region
The ordered train is part of Alstom's Coradia Stream family, and the first delivery to the region is expected to be sometime in 2022.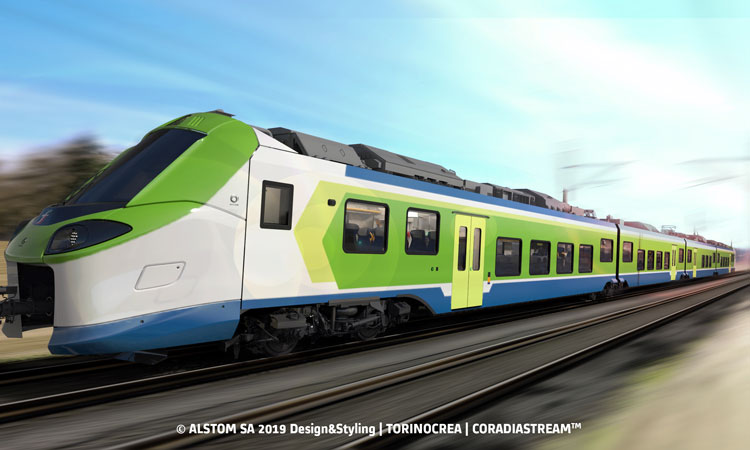 Copyright: Alstom
Italian operator, Ferrovienord, has signed a €194 million contract with Alstom for the order and gradual delivery of 31 regional trains to the Lombardy Region.
The ordered train is part of the Coradia Stream family – an electric, single-deck train designed and produced by Alstom for regional transport, with four traction motors and a maximum speed of 160k/h. The model is already in operation within 10 Italian regions and produced in conformity with the Technical Specification for Interoperability (TSI). The first batch of trains is expected to be delivered to the Lombardy Region from 2022.
Environmental sustainability was a key focus in the design of the new trains: the vehicles are 96 per cent recyclable and consume 30 per cent less energy than their predecessor; no solvents or toxic chemical substances are used at any point in their production; air conditioning and ventilation systems are regulated on the basis of the number of passengers within the carriage; door closure is programmed in order to avoid thermal dispersion; eco-mode is activated when necessary; and passenger lighting is regulated by the amount of light outside the train. 
Features of the new trains include at-seat power sockets, 32 LCD screens visible from all parts of each carriage offering audio-video information and entertainment services, and high-power air conditioning systems. Large windows let in more natural light, and wider corridors throughout the carriages are more accommodating for passengers with reduced mobility.
The contract was part of the signing of a larger framework agreement with Ferrovie Nord Milano (FNM) S.p.A. The agreement will allow for the purchase of an additional 30 trains, up to a maximum of 61, over the next eight years and includes options for preventive and corrective maintenance services. The partnership follows Alstom being awarded the FNM tender in 2017, subsequent to the approval of the purchase of 176 new trains by Lombardy Region, which allocated €1.6 billion to the global programme. 
Managing Director of Alstom Italy and Switzerland, Michele Viale, said: "We are pleased to embark on a new journey towards increasingly modern and sustainable local transport with FNM. In the last ten years, Alstom has delivered 44 regional trains in Lombardy. Our trains already move thousands of passengers every day in the region. The new generation of Coradia Stream represents the best solution for meeting the increasing needs of both the region's travellers and the operator."