Naples' Circumvesuviana network to benefit from new electric trains
The 40 new trains will be used across all six lines on the Naples network, aiming to reduce traffic congestion and pollution.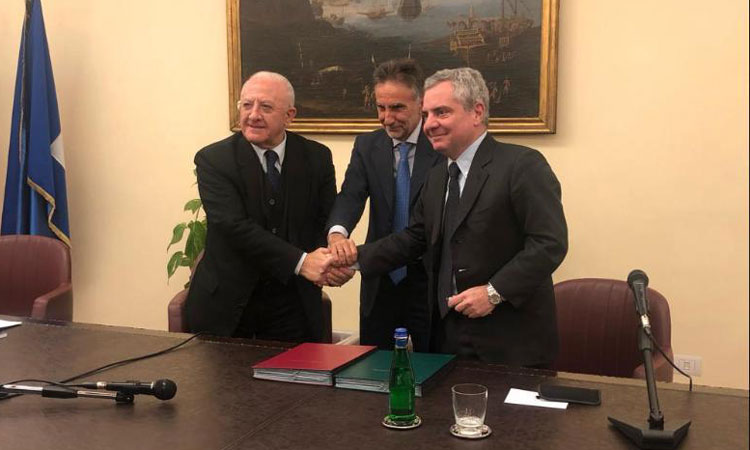 Credit: European Investment Bank
A five-year investment plan, supported by the European Investment Bank (EIB), will introduce a new fleet of 40 electric trains onto the railway network serving Naples and the province of Naples, Circumvesuviana.
The €68 million EIB loan is guaranteed by the European Fund for Strategic Investments (EFSI), one of the pillars of the Investment Plan for Europe.
Ente Autonomo Volturno (EAV), the Campania Region's railway management authority, is heading the project, which will aim to help significantly relieve traffic congestion and considerably reduce pollution in the area. Representing an approximate total investment of €220 million from EAV and EIB, 40 trains due for retirement will be replaced and made operational on the six lines of the Circumvesuviana.
Dario Scannapieco, Vice President of the European Investment Bank, said: "In the metropolitan area of Naples, the Circumvesuviana railway lines are strategically important for commuters and tourists. I am proud therefore that the EIB is supporting this project in view of its social impact and because the move to new electric trains will have a considerable impact on reducing pollution, thus helping to meet the ambitious but achievable goals set by the European Union and the EIB." 
EAV are prioritising investments into mobility programmes aimed at protecting the environment due to wanting to preserve the fragile and already congested transport network in the metropolitan area of Naples. 
The Naples-Sorrento line, the busiest line in the region, serves a significant number of tourist destinations and cultural heritage sites, such as Herculaneum and Pompeii, whilst also operating as a commuter line. The new trains herald an entirely new experience for frequent passengers and will aim to reduce some of the stress that is repeatedly put on the network. The project will enable the EAV fleet to fulfil the latest requirements in terms of safety, operational and energy efficiency.