LNER: Delivering a better railway for the environment, communities and customers
For our 'Improving Rail's Environmental Impact' series, Warrick Dent, Safety and Operations Director at London North Eastern Railway (LNER), writes that the operator is taking several steps to minimise their impact on the environment, including the introduction of their new bi-mode Azuma fleet and reducing waste on-board trains and at stations.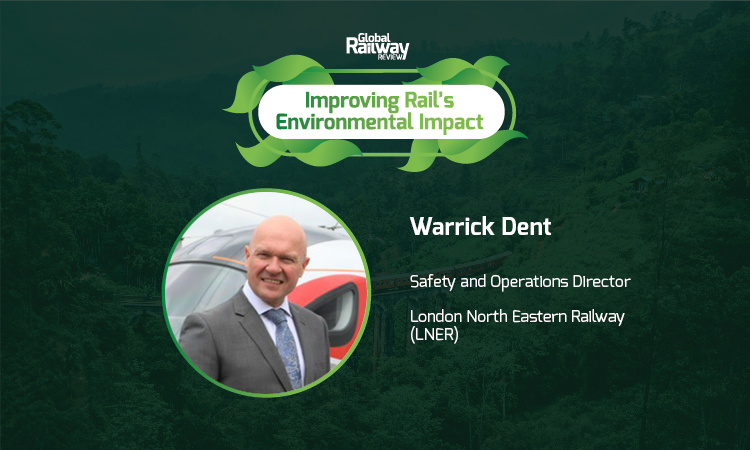 In 2020, London North Eastern Railway (LNER) will complete the introduction of a fleet of new world-class Azuma trains, built in Britain to serve the growing number of 22 million customers each year on the East Coast route.
This new fleet of Azuma trains represents a significant step forward in the environmental credentials for LNER; a pioneering long-distance train company committed to providing the very best possible customer experience and being an environmentally responsible business.
December 2019 saw LNER make history by operating the very last InterCity 125 high-speed train. These trains provided more than 40 years of service on the East Coast route. The fleet of 12 LNER high-speed trains were each operated with two diesel engines for the journeys they would make; typically, on routes not fully served by overhead electric powerlines. Additionally, drop-down windows in carriage ends meant the air conditioning systems were inefficient, and toilet waste emptying on tracks presented further environmental challenges.
The remaining LNER InterCity 225 fleet will be reduced to about 10 sets in daily service for a period, alongside our new Azuma services. This will allow us to offer an improved timetable to take advantage of the higher acceleration characteristics offered by Azuma trains, as well as matching the capacity required for the increased service frequency of more than 20 per cent on the East Coast route. These electric-only services can only operate on electrified routes compared to our bi-mode Azuma fleet, which offers a real revolution in environmental train travel for LNER customers.
Bi-mode brilliance
The Azuma trains boast diesel-electric hybrid engines, meaning they are quieter and greener than any of the previous trains on the route with the bonus of a hi-tech, lightweight design, resulting in less wear and tear on rails. This represents a significant change from where, previously, a high-speed train service would travel more than 550 miles from London to Inverness using diesel engines – compared to now, where Azuma trains use the overhead electricity which is available for almost 75 per cent of the journey, with the remaining stretch between Dunblane and Inverness using the efficient Azuma diesel engines.
The lower noise levels benefit communities along the route and lower emissions offer cleaner air at the stations we serve. Operationally, it allows us to provide a more reliable and agile service during times of disruption or engineering work by taking advantage of routes where overhead power might not be available.
There are also extensive infrastructure improvements taking place along the East Coast route. The most notable being the work by Network Rail at London King's Cross to allow more trains to run and deliver quicker, more reliable journeys along the route. Once completed, this £1.2 billion project will offer extra capacity, bringing an extra 10,000 seats each day. Our Azuma trains, on average, offer 100 extra seats than our previous fleet, meaning we can increase the frequency of better value tickets to more places. Ultimately, we expect this will attract more people to choose train over plane.
Train over plane
Research by the Energy Saving Trust found that the carbon emitted on a plane journey from London to Edinburgh is 144kg, compared to a mere 29kg when taking the same journey by train. By responding to our customer needs and expectations, we are seeing an increase in modal shift to train from plane on our Edinburgh/London routes. From January to November 2019 on London–Edinburgh point-to-point trips only, LNER had a 38.1 per cent share of LNER rail/air journeys. This was a significant increase on 2018, where the figure was 33.7 per cent. We know our customers want to know more about their carbon footprints. Therefore, we offer an easy to use 'Carbon Calculator' on our website using data by DEFRA to allow customers to compare the CO2 credentials of the train versus plane or car.
At LNER, we believe in supporting our communities and always being mindful of the environment. We are working with sustainable suppliers for everything we do, so it's not just the trains themselves offering advances in being kinder to the environment, but also adapting to printing timetables on sustainable sourced paper and encouraging electronic solutions for everything – from ticketing and reservations to customer correspondence.
Environmental excellence
As well as reducing our carbon emissions – thanks to our new Azuma fleet – we are also working hard to reduce waste.
As well as reducing our carbon emissions – thanks to our new Azuma fleet – we are also working hard to reduce waste. By being bold and ambitious, it is our aim to go further and become the greenest rail company in Britain. We are already making progress in several areas, with the introduction of more environmentally conscious processes.
Onboard our trains, we are working to eliminate excess packaging in our retail offerings, including reducing the amount of flow wrap used to wrap cutlery and using glasses for First Class complimentary drinks, rather than plastic. We have reduced single use plastic by 36 per cent by reducing the gauge of the flow wrap used to protect food.
We are also encouraging suppliers to change their packaging: Harrogate Water's bottles are now made from 50 per cent recycled plastic, for example. All of our suppliers share our focus on reducing our carbon footprint and support our ethical sourcing.
We continue to work with our waste contractors to improve the accuracy of our data and ensure waste is diverted from landfill. As of June 2019, we have successfully achieved Zero Waste to Landfill, awarded by Valpak, for any waste generated within direct contractual control of LNER.
Train stations can generate a considerable amount of waste. Currently, around 19 per cent of our waste is taken for recycling from our locations. Our waste contractors achieve more than that as they sort and segregate all of our waste. However, we want to do better up front and achieve 50 per cent recycling segregation. To do this, we are working closely with station tenants, cleaners and colleagues to challenge behaviours and improve infrastructure at stations – for example, increasing available bins and signage.
Customers and communities at heart
To reduce coffee cup and plastic bottle waste, our customers can receive a discount on-board our trains if they use their own reusable coffee cups. At Berwick Upon Tweed and Retford, we now have water bottle refill points, which have been registered with Refill.org. More of our stations will follow later in 2020.
As a responsible business, we are also committed to offering fair pricing and promotions to encourage more people to travel by train, save money and reduce their carbon footprint.
We've worked with 32 schools along our route on a tree-planting programme. More than 2,800 native trees have been planted to date, creating not only special places for pupils, but aiding their environmental learning and awareness of nature.
As a responsible business, we are also committed to offering fair pricing and promotions to encourage more people to travel by train, save money and reduce their carbon footprint. Our popular 'Family Ticket', introduced in 2019, is one example of how we've helped reduce the number of journeys made by car.
LNER is committed to continuing work to minimise our impact on the environment and offer positive solutions. Compared to cars and planes, rail is unquestionably the most environmentally friendly way to travel, but we have bold ambitions to go further and become the greenest choice of rail provider.
Our goals are to use less energy and become more efficient where energy use is unavoidable, reduce the total amount of waste we produce, recycle as much as possible and dispose of zero waste to landfill. We aim to reduce water consumption as far as practicable and to set new challenging targets for reduction of our carbon footprint.
At LNER, we aspire to put heart into everyone's journey, delivering a railway network that is better for the natural environment, our local communities, our customers and our people working all along our East Coast route. Together, we are already on a greener journey.
Warrick Dent is Safety and Operations Director at London North Eastern Railway (LNER). Warrick has held senior positions at Network Rail in York, London and Swindon, prior to joining Virgin Trains East Coast in April 2015 and LNER in June 2018. He works closely with Network Rail and key suppliers and strives to continuously improve the safety and reliability of LNER's train service.
If you would like to take part in our Improving Rail's Environmental Impact series, please email: Craig Waters, Editor, Global Railway Review.