Greater Anglia continues testing of electric trains despite COVID-19
Taking advantage of the reduced traffic on the network as a result of the COVID-19 pandemic, Greater Anglia has continued testing of its new electric commuter trains.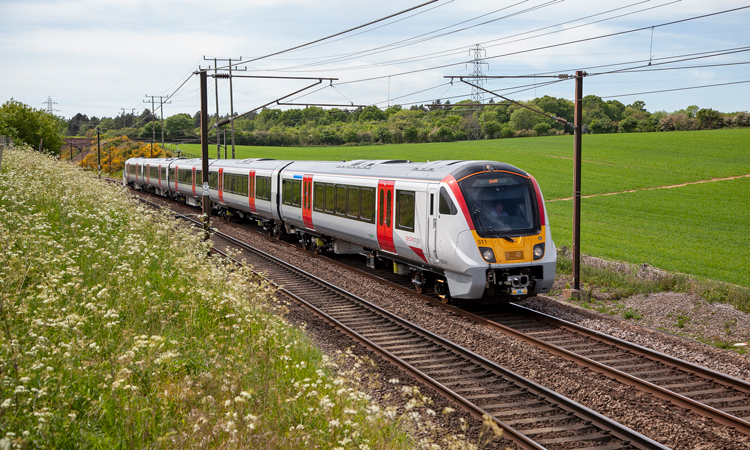 Credit: Greater Anglia
Greater Anglia has announced that performance and safety tests on its brand-new electric commuter trains are continuing despite the COVID-19 pandemic.
The operator is currently replacing each train from its old fleet with brand new state-of-the-art modern trains, including 111 trains from UK train manufacturer, Bombardier.
There are currently four Bombardier trains operating on the Greater Anglia network, but, before entering into passenger service, each trainset must undergo a series of safety and performance tests.
Greater Anglia has continued testing on the trainsets, with the new trains' programme team taking advantage of a reduced passenger service as a result of the pandemic, which has made more time available on the network for test runs.
Franchise and Programmes Director at Greater Anglia, Ian McConnell, said: "We have to test trains' equipment, such as the pantograph – which connects the train to the overhead wire to get power – doors, passenger information systems and other on-board systems."
He continued: "We carry out checks to see how the trains interact with signals and overhead lines, and we need to see how they perform at different speeds across the routes where they will be in passenger service. We're looking for any faults that might develop after the trains have put some miles on the clock, as we want to make sure that, once they're in service, they're as reliable as possible."
Will Tanner, Communications Director at Bombardier Transportation, said:  "We can't wait to get these British designed and built trains into service, but state-of-the-art trains means that it's even more important to test everything before passenger service begins. We are working with Greater Anglia as a team to make the most of the extra time available to us on their network."
Recent tests have included electromagnetic compatibility testing across the whole network – including Hertford East, Norwich, Southend, Cambridge and Ipswich – to check how the trains interact with signals and overhead lines.
Engineers have also been carrying out 'shakedown' testing to check the general performance of the trains before starting formal 'fault-free running', which requires the trains to travel a certain number of miles without any faults in order to be correctly prepared for passenger service.
The Office for Rail and Road (ORR) has now authorised the five-carriage trains as suitable for passenger service as either five- or 10-carriage trains, which is one of the necessary certifications that Greater Anglia needs to achieve, alongside the testing programme.
Greater Anglia's new Bombardier trains are due to go into passenger service later in 2020 on commuter routes into London Liverpool Street from Essex, Hertfordshire, Cambridgeshire and Ipswich.
They are all longer than the trains that they will replace and will feature more seats, air conditioning, fast and free Wi-Fi, improved passenger information screens, better accessibility features and bicycle spaces on each train.
The trains are significantly lighter than previous trains and feature regenerative braking, which delivers energy back into the electrical supply network rather than wasting the energy, through heat, as is the case with conventional systems.