Alberto Mazzola elected as new CER Executive Director
Mazzola will follow Libor Lochman into the role, following an unanimous vote at the CER General Assembly on 21 September.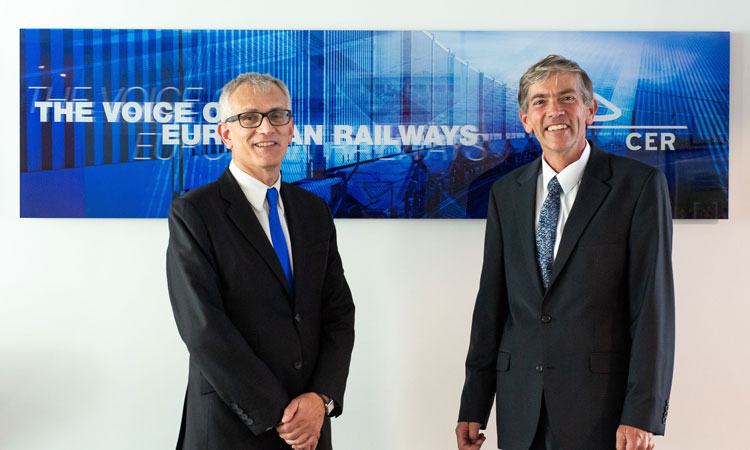 Alberto Mazzola (left) and Libor Lochman (right)
Alberto Mazzola has been unanimously elected as new Executive Director of the Community of European Railway and Infrastructure Companies (CER). He will succeed the current Executive Director, Libor Lochman, and take office on 1 January 2021.
Alberto Mazzola holds a Master's in Business Administration and a Doctorate cum Laude in Nuclear Engineering from the Politecnico of Milan. In 2002, he joined Ferrovie dello Stato Italiane (FS), where he held different positions. In his current role as Head of International Government Affairs, he is based in Brussels dealing with international affairs and European legislation, market regulation and technical standards. Before joining FS, he contributed to the worldwide business section of Leonardo Finmeccanica (1988-2002). From 2015 to September 2020, he was Vice-President of the Transport, Energy and Service of General Interest Section and President of the International Trade Agreements Follow up Committee of the European Economic and Social Committee.
"With Alberto Mazzola, the General Assembly today decided for an outstanding expert not only in EU policy making but also in the European rail business," commented CER Chair Andreas Matthä (CEO, ÖBB Holding AG).
"I am confident that he will strongly represent Europe's rail sector towards the European institutions and successfully position rail as the backbone of Europe's future sustainable mobility plans."
"Let me highlight that thanks to Libor Lochman's relentless efforts, the finalisation of the Fourth Railway Package has been a stepping stone for the creation of the Single European Railway Area. An era is coming to an end and CER thanks him for all his achievements."
CER Executive Director Libor Lochman expressed his delight at the vote, adding that Alberto Mazzola "will have the chance to start his mandate with the kick off of 2021 as the Year of Rail and with a freshly published EU Strategy on Sustainable and Smart Mobility."
Incoming CER Executive Director Alberto Mazzola said: "I will work to support, with the relaunch of Europe after COVID-19, the full recovery of passenger and freight transport by rail, as well to promote new policies to boost rail. With the 2021 European Year of Rail we will bring citizens, railway workers, social partners, businesses and European youth closer to the public debate on EU Sustainability and Mobility policies."
The CER General Assembly also elected Róbert Homolya (CEO, MÁV) as a Vice-Chair of CER and Vincent Ducrot (CEO, SBB) as a new member of the CER Management Committee.