Rail Freight Forward and the Port of Rotterdam join to promote sustainable multimodality
Ahead of an anniversary event to showcase what has been achieved so far with the Rail Freight Forward (RFF) coalition's 'Noah's Train', the Port of Rotterdam and RFF have announced they will be joining forces to work closely on achieving sustainable multimodality.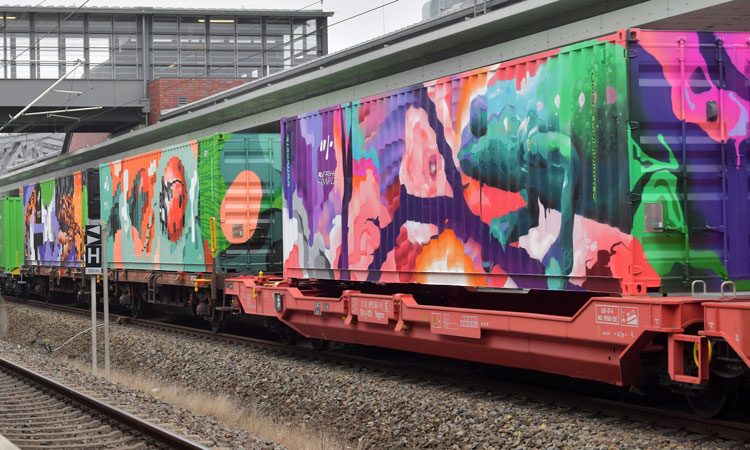 Noah's Train. Credit: DB AG/Oliver Lang
Rail Freight Forward (RFF) is a coalition of European rail freight companies committed to drastically reducing the negative impact of freight transport on the planet and on mobility. Its Noah's Train campaign has been spreading RFF's message across Europe for almost a year and on 11 October 2019 at an anniversary event at the Port of Rotterdam, Noah's Train will set sail for the global UN COP25 Climate Change Conference in Santiago, Chile. At the event will be top-level guests from politics and various industries including Vera Tax (Member of the European Parliament), Kees van den Burg (Director-General, NL Ministry of Infrastructure and Water Management), the Port of Rotterdam's CEO Allard Castelein, and the CEOs representing RFF's member railway undertakings.
Moving to multimodality with the Port of Rotterdam
The Noah's Train initiative meets the Port of Rotterdam's aim to become a CO2-neutral port. It is the start and end point of over 250 international rail connections and has an extensive network of intermodal transport connections: rail, inland shipping, road and pipelines, ensuring sustainable access to European destinations in the hinterland within 24 hours.
The Port of Rotterdam gives freight forwarders a good opportunity to realise the benefits of shifting freight from road to rail. The RFF coalition has come a long way over the course of the year and are on track to mobilise Europe and reach the '30 by 2030' goal.
CEO of Rail Cargo Group and Chair of the RFF coalition, Clemens Först, said: "Driving a train through Europe must become as easy as driving a truck. RFF is driving this message forward."
RFF's next campaign will be to focus on multimodality and the Port of Rotterdam is a crucial partner to achieve sustainable multimodality.
A real opportunity to save the climate
Freight transport pumps 275 million tonnes of CO2 emissions into the air every single year. The 2016 Paris Agreement made it clear that increasing rail freight's share in freight transport gives a good chance to dramatically reduce this figure – but to do this, the railways' share in freight transport needs to increase from 18 per cent to at least 30 per cent by 2030.
The advantages of rail freight transportation are significant and sustainable. In figures, this means:
Railways are more than five times better when it comes to noise pollution
Railway's energy consumption is six times less
Railways are eight times better when it comes to air pollution
Railways are nine times better in terms of CO2 emissions
Railways cost society 12 times less than the roads
Railways cause 21 times less CO2 emissions in Europe
Railways cause 85 fewer casualties.
Related topics
Related organisations
Related people