New Greater Anglia train arrives in Essex for safety and performance tests
Following an order for 111 new electric trains from Bombardier, the first train will undergo tests on the Greater Anglia network before entering operation.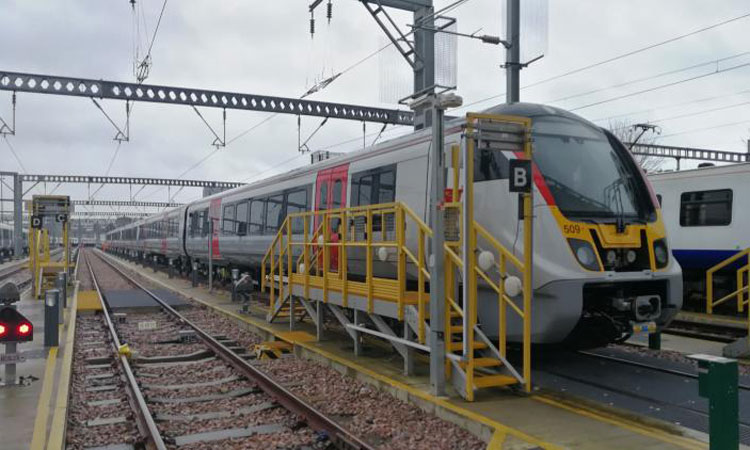 Credit: Greater Anglia
Following placing an order with Bombardier for a fleet of electric trains, the first of Greater Anglia's new units has arrived in the region. Designed and built at Bombardier's factory in Derby, the five-carriage electric train was delivered to Greater Anglia's depot in Ilford and is beginning preparation for the beginning of a series of safety and performance tests to be undertaken in Essex, Cambridgeshire, Hertfordshire and Suffolk.
Greater Anglia has taken preemptive measures prior to the testing of the new units, with seven of the operator's train drivers having been for test drives on the new Bombardier electric trains at Network Rail's national test facility in Leicestershire in order to prepare them for undertaking testing on the Greater Anglia network.
Greater Anglia's Franchise and Programme Director, Ian McConnell, said: "It's fantastic to have one of these new Bombardier trains now on our patch. Our test drivers have been very impressed with them. They said it was like going from a bottom of the range small car to a Rolls Royce, compared to driving our old trains. We're confident our customers will be equally pleased with the quality of the new trains, as they should greatly improve their journeys with us."
Approximately a third of the total number of carriages have been built by Bombardier, which will be combined to create 111 new electric trains. The units will run on the Essex, Ipswich, Cambridgeshire and Hertfordshire to London Liverpool Street commuter lines. The trains are expected to begin entering passenger service during spring 2020 and will all be in operation by spring 2021.
Features of the new train include more seating, plug and USB sockets, air conditioning, better passenger information screens and improved accessibility features. Due to being powered by electricity, 40 per cent lighter than previous trains and featuring regenerative breaking, the new trains are also more sustainable than their predecessors. 
Will Tanner, Communications Director for Bombardier said: "These British-designed and built trains have been delayed by a range of factors, but production is now being ramped up with extra staff recruited at our Derby factory so that Greater Anglia's customers can benefit from these state-of-the-art trains as quickly as possible."