First 12-carriage Greater Anglia electric train arrives at Liverpool Street
The arrival is one of the 58 new trains which are part of the evolving electric fleet of Greater Anglia trains which will begin passenger service this year.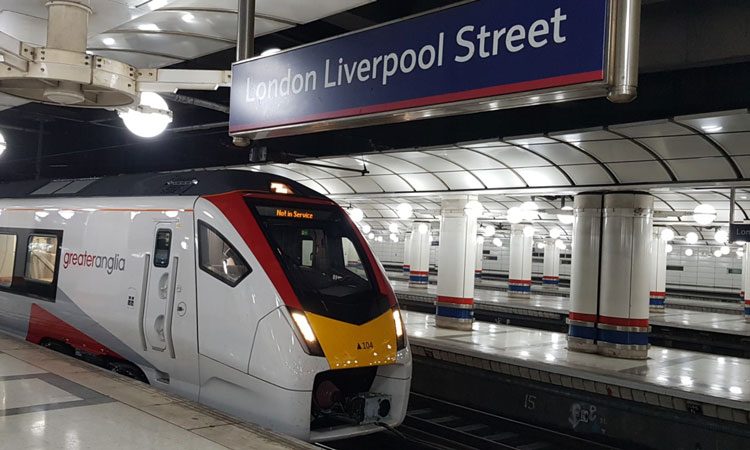 A 12-carriage electric train has made its maiden voyage into Liverpool Street station, signifying a key achievement in the testing phase and bringing Greater Anglia new trains one step closer to roll-out.
This train, a class 745/1 EMU, is one of the 58 new trains that Swiss rail-manufacturer, Stadler, is building for the Greater Anglia network. Its arrival into London represents a highly symbolic landmark for the project. The new fleet, which is in the later stages of the test phase, will start going into passenger service this year.
One of ten class 745/1 trains that will run on the Stansted Express route between London Liverpool Street and Stansted Airport, it is designed to make passenger flow as easy as possible, and fittings are geared to customers taking flights, with more space for luggage.
On the outside, it is similar to the new class 745/0 Intercity. The first class 755/3 bi-mode three-carriage train has also already been shipped to the UK, and more class 745/0 Intercitys will be dispatched from Switzerland over the coming weeks. Authorisation testing for the class 755/4 bi-mode four-carriage trains, which arrived at the end of last year, has now been successfully completed.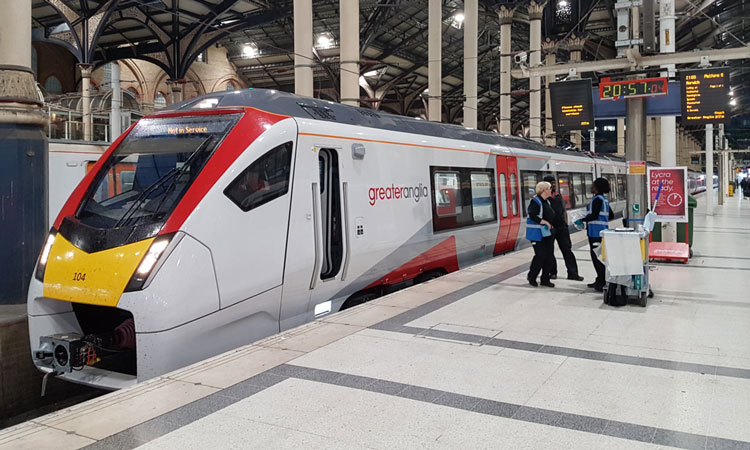 Martino Celeghini, Technical Project Manager for Stadler, said: "Seeing the train pull into Liverpool Street for the first time made me realise how far we had all come since the contract was signed, less than three years ago. This route in particular is part of the life blood of the UK economy, and signifies Stadler's entry into the mainstream UK rail industry."
Ian McConnell from Greater Anglia, added: "Seeing the Stadler 12-carriage electric train in the pull into a platform at Liverpool Street was amazing. It really brought home what a huge improvement these brand new state-of-the-art modern trains will be for the railway in East Anglia. It's unlike anything else in this country – and they're going to transform our customers' journeys."
Mark Swindell, CEO Rock Rail, said: "These trains are an impressive sight and set to transform the travelling experiences for passengers on the Stansted Express route. They are some of the first trains to be introduced into the UK with finance provided through direct investment from pension funds and insurance companies."
All of the new Swiss-made electric trains for Greater Anglia are longer, with more seats, plug and USB sockets and air conditioning. They will have fast free Wi-Fi and improved passenger information screens.
Designed for comfort, the new Stadler trains will feature low flooring to make them accessible for people in wheelchairs and with pushchairs. Windows will be bigger and 'picture style' to improve the passenger experience and create a more airy and spacious feel. Customers will be able to walk more easily along the whole length of the train, making people feel more secure. All trains will be fully air-conditioned and have disabled toilets and bicycle spaces. They are being financed by Rock Rail East Anglia, a joint venture between Rock Rail, Aberdeen Standard Investments and GLIL Infrastructure, and will be leased to Greater Anglia.