New guidance aims to improve reliability of assistance for disabled passengers
Stephen Brookes MBE, states how the new ORR protocol will go a long way in assuring disabled people that their needs are being properly understood and delivered.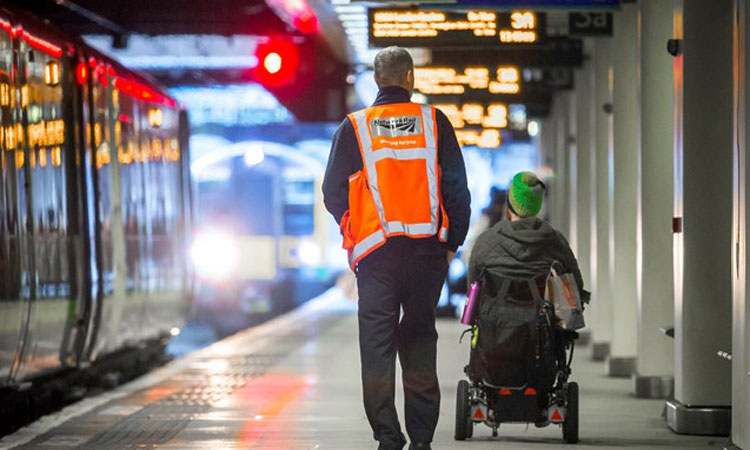 The Office of Rail and Road (ORR) has announced new safeguarding measures to improve reliability of over a million requests for passenger assistance received each year on Britain's railways.
The new rules are now in force for all train and station operating companies following a successful trial by Network Rail, GTR and South Western Railway. The requirements focus on improving the way staff communicate and coordinate passenger assistance between stations, helping to prevent assistance failures and driving up the reliability of the service.
Train and station operators must now have:
A dedicated assistance telephone number for every station
A 'responsible person' for every station who will ensure calls to those numbers are answered
A handover protocol to ensure that when those calls are answered, the essential information needed to coordinate the assistance delivery is provided, such as the passenger's assistance need, what train they are travelling on and their location on the train.
These new requirements are the result of extensive ORR research and consultation with industry into the primary causes of passenger assistance failures. This found that too often train and station operators were relying on informal and inconsistent processes to communicate and coordinate assistance between the passenger's boarding and alighting stations. These information failures all too frequently ended with assistance staff not being in the right place at the right time to deliver the alighting assistance.
In many cases, station staff were either unsure of what number to call to start the handover process; or when they did know, there would be no answer. In other cases, there was insufficient information given on the handover call to ensure that there was adequate assistance when the passenger arrived at their destination.
Now when a passenger needs assistance, the boarding station will know exactly what number to call to reach the passenger's alighting station; have certainty that it will be answered and; know precisely what information they must provide to enable the alighting station to deliver the assistance in a safe and timely way.
"ORR wants all passengers that require assistance to travel safely with confidence and ease," commented Stephanie Tobyn, Deputy Director, Consumers at ORR. "That is our expectation, irrespective of whether a passenger books assistance in advance of their journey or wishes to travel spontaneously and request assistance at the station.
"These changes will ensure that passengers can have more confidence in train and station operators' capacity to better coordinate and provide assistance reliably."