UK government establishes new public body to end fragmentation of UK railways
The UK government has announced the formation of a new public body, Great British Railways, which will bring the UK's railways under single, accountable national leadership.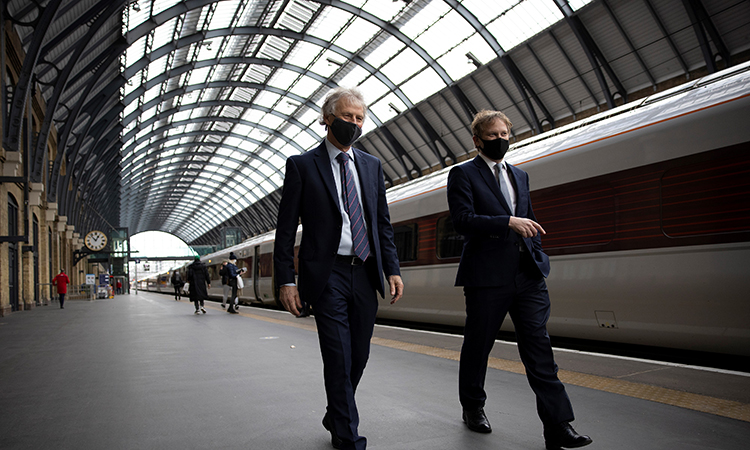 Credit: Department for Transport
A quarter-century of fragmentation on the UK's railways will come to an end as they come under single, accountable national leadership, following the UK government unveiling a new plan for rail which prioritises passengers and freight.
A new public body, Great British Railways (GBR), will integrate the railways, owning the infrastructure; collecting fare revenue; running and planning the network; and setting most fares and timetables.  
Ticketing
Great British Railways will simplify the current mass of confusing tickets with new flexible season tickets and a significant roll-out of more convenient Pay As You Go, contactless and digital ticketing on smartphones. A new Great British Railways website will sell tickets, and a single compensation system for operators in England will provide a simple system for passengers to access information and apply for refunds.
Private operators
There will remain a substantial, and often greater role, for the private sector. Great British Railways will contract private partners to operate most trains to the timetables and fares that it specifies, with a model similar to that used by Transport for London (TfL) in its successful Overground and Docklands Light Railway (DLR) services.  
The new Passenger Service Contracts will include strong incentives for operators to run high-quality services and increase passenger numbers. They will not be one-size-fits-all: as demand recovers, operators on some routes, particularly long-distance, will have more commercial freedom. Affordable walk-on fares and season ticket prices will be protected. 
The future of UK rail
The Williams-Shapps Plan for Rail, published on 20 May 2021, sets out the path towards a truly passenger-focused railway, underpinned by new contracts that prioritise: punctual and reliable services; the rapid delivery of a ticketing revolution, with new flexible and convenient tickets; and long-term proposals to build a modern, greener and accessible network.
The UK Prime Minister, Boris Johnson, said: "I am a great believer in rail, but, for too long, passengers have not had the level of service that they deserve. By creating Great British Railways, and investing in the future of the network, this government will deliver a rail system that the country can be proud of."
Grant Shapps, the UK's Transport Secretary, said:  "Our railways were born and built to serve this country, to forge stronger connections between our communities and provide people with an affordable, reliable and rapid service. Years of fragmentation, confusion and over-complication has seen that vision fade, and passengers failed. That complicated and broken system ends today."
"The pandemic has seen the government take unprecedented steps to protect services and jobs. It's now time to kickstart reforms that give the railways solid and stable foundations for the future, unleashing the competitive, innovative and expert abilities of the private sector, and ensuring that passengers come first," he added.
Grant concluded: "Great British Railways marks a new era in the history of our railways. It will become a single familiar brand with a bold new vision for passengers – of punctual services, simpler tickets and a modern and green railway that meets the needs of the nation."
Keith Williams, Chair of the Williams Review, said: "Our plan is built around the passenger, with new contracts which prioritise excellent performance and better services, better value fares and creating clear leadership and real accountability when things go wrong."
"Our railway history – rich with Victorian pioneers and engineers, steam and coal, industry and ingenuity – demands a bright future. This plan is the path forward, reforming our railways to ensure that they work for everyone in this country," he added. 
COVID-19 has caused deep, structural challenges to the railway, with use still far below pre-pandemic levels. This strategy re-emphasises the government's commitment to growing, not shrinking, the rail network, with tens of billions of pounds invested in more electrification, new and reopened lines and a rail revolution.  
Great British Railways will drive significant efficiencies in the railways' inflated costs, reducing complexity and duplication, increasing flexibility, changing working practices and making it easier and cheaper to invest. Reform is the only way to protect services and jobs in the long term.  
In the short and medium term, the UK government will work closely with the sector on measures to encourage passengers back to rail. To reflect changes in the traditional commute and working life, the government has also announced that a new national 'flexi season ticket' will be on sale from summer 2021, with potential savings of hundreds of pounds a year for two and three day-a-week commuters. Tickets will be on sale from 21 June 2021, ready for use from 28 June 2021.  
The new Passenger Service Contracts will also help to build a more financially stable industry. By removing barriers to new market entrants, including by no longer basing competitions on complex and uncertain revenue forecasts, private operators will be challenged to provide a competitive and customer-focused offer, delivering greater value-for-money for the taxpayer.  
Local communities will work closely with GBR on designing services, with local leaders given greater control over local ticketing, timetables and stations. The new model will encourage innovative bidders, such as community rail partnerships who want to bid for the GBR contract to operate their local branch lines.  
The journey to this new passenger-focused model has begun. New National Rail Contracts will be announced in 2021. These contracts will be in operation for two years and act as a bridge to reform.
Response from the Rail Delivery Group
Andy Bagnall, Director General of the Rail Delivery Group (RDG), said: "Train companies have long called for many of the reforms in this white paper, and these proposals can deliver the biggest changes in a generation. Getting the detail right will be crucial to ensuring that the white paper fulfils its potential to improve journeys; offer independent oversight and clear accountability; and create a new set of fares which are simpler and more value for money. For our passengers, we are ambitious to move quickly and work with government so that we can attract people back onto trains with better services and maximise the railway's contribution to the recovery."
Passenger service contracts
He added: "We welcome the commitment that new passenger service contracts will allow room for local train companies to use private sector expertise to respond to what their customers want on the ground and attract more passengers, boosting Britain's economy."
Fares
"Flexible tickets for commuters and more pay-as-you-go are good news for passengers. To really maximise the benefits and make it easier for people to get good value fares requires government to go further and get under the bonnet to fix the engine of the fares system," Andy explained.
Great British Railways
He concluded: "Train operators called for a guiding mind, and Great British Railways will help to bring the whole industry together. To deliver for passengers and freight customers, it must have the independence to hold the operators of both tracks and trains to account equally. Crucially, it needs to allow operators to put their customers at the absolute forefront of decision making."
Response from the Railway Industry Association
Darren Caplan, Chief Executive of the Railway Industry Association (RIA), said: "It is good to see the Williams Review published today, giving some certainty to the government's plans for the railways as we emerge from the coronavirus pandemic."
"As far as the Railway Industry Association and our members are concerned, we are heartened that the new Williams-Shapps Plan for Rail is a 30-year strategy, which supports modernisation and investment along the lines of the RIA Rail 2050 manifesto that we published in November 2019. As we argued then, it is right to take a long-term approach, in order to smooth boom and bust and provide more certainty for rail schemes; decarbonise and digitalise the network; deliver major projects; protect and create jobs; and foster innovation and collaboration between railway partners. We also welcome the ambition to attract passengers and freight back to the network and grow both markets," he continued.
"We will, of course, be examining the contents of the white paper in further detail over the coming days and look forward to working with government, the new Great British Railways organisation, Network Rail and other industry stakeholders to deliver a railway fit for the future. Our major ask at this stage, however, is that the restructure of UK rail does not cause any hiatus in work being done to renew and enhance railway infrastructure or rolling stock, to ensure that everyone in the industry can help rail to build back better as we emerge from the pandemic."
Response from the Rail Freight Group
The Rail Freight Group (RFG) has welcomed the publication of the Williams–Shapps Plan for Rail, which offers the opportunity of a lifetime to accelerate the growth of rail freight, helping to decarbonise UK freight transport and meet the needs of freight customers.
Maggie Simpson OBE, RFG's Director General, said: "Businesses across the country are hungry for more rail freight as they decarbonise their supply chains and build back the economy. The creation of Great British Railways is a unique opportunity to meet these ambitions if it ensures that private sector rail freight operators can flourish, and that customers and suppliers are encouraged to invest for growth."
"We look forward to working with government as they develop the detailed proposals, including for reform of track access and a new role for the Office of Rail and Road (ORR). It will be essential that the new structure and systems truly deliver on their promise for rail freight," she added. 
Response from Arriva UK Trains
David Brown, Managing Director of Arriva UK Trains, said: "Arriva shares the government's ambition for a passenger-centric railway that puts high quality services at its heart and responds to the changing needs of consumers, so we welcome reform and stand ready to deliver a modernised and financially stable railway as the country recovers from COVID-19."
"We are pleased that the private sector is recognised for the significant role that we play and, in particular, the recognition of the London Overground concession model, which Arriva operates for Transport for London. It is right that new contracts will prioritise quality services, with a focus on punctuality and reliability. We look forward to working alongside Great British Railways to deliver long-term reform and the commitment to growing the network, as part of a modern and green railway, that meets the needs of the nation," he added.
Brown concluded: "It is crucial to bring customers safely back to rail and we welcome measures, such as flexible season tickets and digital ticketing, that reflect consumer needs and changing working and leisure patterns. We look forward to working alongside government to help to shape the details of these plans and to deliver reform at pace."
Response from GB Railfreight
John Smith, Managing Director at GB Railfreight, said: "We welcome the publication of the Williams-Shapps Plan for Rail and appreciate the warm words used to describe rail freight – correctly identified as having played a crucial role in keeping food and medical supplies moving during the pandemic, as well as being key to building back better."
"As the Williams Review found, the rail sector lacks clear strategic direction. While we would have preferred a freight-specific 'guiding mind', we welcome the government's intent that the new Great British Railway body will have a statutory duty to promote rail freight. Within this context, it is vital that our access to the network is given long term security as soon as possible," he added.
John continued: "However, we remain of the belief that our sector needs a 'Freight Evangelist' to champion it within GBR and across Whitehall. The benefits of rail freight are there for all to see, and we hope that they will be recognised by GBR once it has been set up. Hopefully such an individual will be placed in post within the GBR organisation."
"We look forward to playing our part in shaping in the future of the railways, including working with GBR and the Department for Transport on the Whole Industry 30-year Strategic Plan that will be set out in the coming months, as announced in the White Paper," he concluded.
Response from Transport Focus
Commenting on the Williams-Shapps Plan for Rail, Transport Focus' Chief Executive, Anthony Smith, said: "Passengers will welcome this move towards a more accountable and joined up railway. Ultimately, what they will care about is whether rail is the best option for them – if it is reliable, efficient and good value. Flexible tickets and discounts will help some passengers. We welcome steps to simplify ticketing. This is a positive step towards much-needed reform of how rail tickets are sold. We need tickets that are more likely to match how we might live and travel in future."
Response from Logistics UK
Elizabeth de Jong, Director of Policy at Logistics UK, commented: "The creation of Great British Railways should lead to more unified decisions for freight, which has been disadvantaged by complex systems of decision making involving various different rail bodies.
"The government's planned ambition to promote the use of rail freight is a positive step towards putting freight services on an equal footing to passenger services. It is crucial that this ambition is delivered to enable the freight sector to grow and achieve its full potential. The industry needs a strategic vision for freight and Logistics UK hopes that the creation of Great British Railways' national freight co-ordination team will ensure this becomes a core priority.
"Logistics UK will now scrutinise the details of these plans and work with Great British Railways and the Department for Transport on the reform process. While some uncertainty remains over how the new body will work in practice, the rail freight sector will work together to ensure it meets the needs of logistics businesses."
Response from the Rail Supply Group (RSG)
Philip Hoare, Chair of the RSG, said: "The Rail Supply Group (RSG) welcomes the Williams-Shapps Review and the long-term government commitment to prioritise the needs of passengers and freight under the new single body, Great British Railways. We particularly welcome the development of a 30-year vision for the sector that presents a once in a generation opportunity to transform all aspects of how we provide services.  The rail supply chain is ready to rise to the challenge of improving efficiency, accelerating innovation, driving towards a net zero carbon future and investing in the new jobs and skills that will be necessary to turn this vision into reality."
Response from DB Cargo UK
Andrea Rossi, Chief Executive of DB Cargo UK, said: "We welcome the direction that today's White Paper provides and will continue to work with government and other key industry stakeholders to realise the true potential of rail freight here in the UK. For too long the points have been unfairly set in favour of passenger train operators and on first reading, today's proposals appear to provide an opportunity to level the playing field and really maximise the environmental and economic benefits rail freight can deliver.
"Our industry has played a pivotal role during the recent pandemic and ensured the seamless movement of goods to and from Europe during the difficult Brexit transition period but we have so much more to give in terms of helping the government to grow the economy and deliver on its net zero emissions targets. We will work hard to ensure that our compelling case for the further growth of rail freight continues to be heard."