Top rail brands in Britain revealed
Many train operating companies are still trying to restore their reputation in the wake of 2018's timetable chaos, but there are signs of improvement. So, which of Britain's rail brands are best perceived by customers?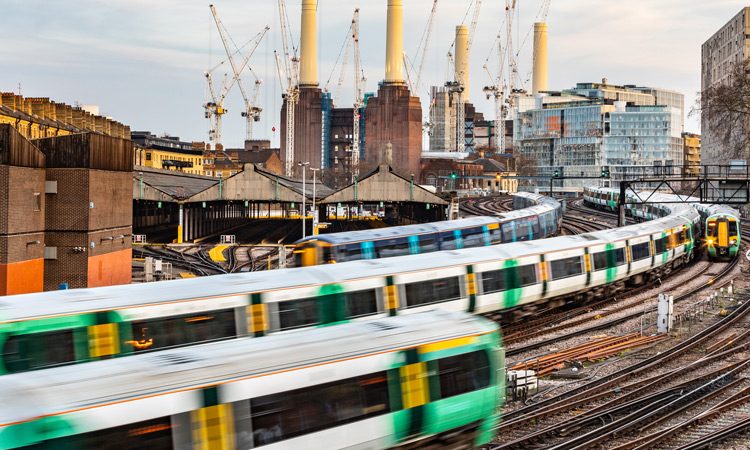 According to a report, Britain's rail sector is in better shape than it was 12 months ago, but rail brands are struggling to restore their reputation.
Overcrowding. Cancellations and delays. Increased fares. These are just some the of unwanted news headlines the rail industry has had to contend with in the last year. But how well are Britain's train companies doing in the eyes of those who should matter the most – their customers.
Customers believe that the rail sector is in better shape than it was just 12 months ago. But despite this improvement in general perceptions of the industry, many train operating companies are struggling to change negative brand perceptions and improve online sentiment towards their brands. 
Conducted by BVA BDRC, the 2019 Rail Reputation Index has revealed that six of the 24 major train operating companies have recorded an improved Net Promoter Score (NPS) but the remaining 18 have either declined year-on-year or failed to improve. The Rail Reputation Index is an annual study and is based on interviews with approximately 6,000 train users, with samples representative of the journey mix of each train operating company, as well as analysis of online sentiment towards rail brands.
2019 best performers
A sign of greater maturity and sophistication in brand marketing – particularly in the long-distance sector, is the growing significance of emotional brand associations (as well as functional service touch-points) when it comes to driving brand advocacy and positive word-of-mouth.
Tim Sander, Director at BVA BDRC, said: "Negative stories such as industrial action, delays, overcrowding and timetabling issues make the news, but when train operators get it right, unfortunately there's rarely a fanfare. Many of the train operating companies that were most affected by the timetable chaos in 2018 are still suffering from the reputational consequences. Though, pleasingly, some are showing signs of progress and newer franchises can benefit from positive publicity around long-term investment plans. While the industry still faces many challenges, perceptions of the sector overall are improving and growth in demand for rail travel shows no sign of abating."
The operators respond:
Chiltern Railways Customer Services Director, Alan Riley, said: "We are delighted that Chiltern Railways is the train company people are most likely to recommend in London and the South East and is top for positive social media sentiment. The result is a testimony to the hard work that the team at Chiltern put in every day and our commitment to delivering across the route to make it better for customers. We're continuing to develop based on what passengers tell us and are dedicated to doing more to give our passengers the experience they deserve."
Suzanne Grant, Commercial Director at Merseyrail, said: "It's fantastic news to hear that Merseyrail is the top ranked regional rail brand in the country, and it is a reflection of our staff's commitment to high quality customer service and always putting passengers first. As an award-winning network that places a huge emphasis on building a brand that the local community can be proud of, it is pleasing to see that our brand still resonates so strongly with our passengers. Moving forward we will be introducing our new fleet of state-of-the-art trains and smart ticketing initiatives that will make our passengers' experience with Merseyrail even better."
Patrick Verwer, Chief Executive Officer of Govia Thameslink Railway (GTR), said: "Passengers on Southern are now happier with the service than they have been at any time in the past seven years. Across the board, they are more satisfied with the standard of our stations and trains and the smooth-running of the timetable. Underpinning these scores is a consistently reliable service, with nine out of ten trains running on time."
Patrick continued: "Passenger satisfaction has bounced back on Thameslink and Great Northern as punctuality and reliability have recovered from the disruption caused by the spring 2018 timetable change. Since the survey was carried out, we have started to replace the UK's oldest electric fleet with new Class 717 trains on Great Northern and we hope these improvements will be reflected in future surveys."
"An increase of two percentage points has put Gatwick Express into the country's top six operators for passenger satisfaction," said Patrick. "However, we know there is always more we can do, and we are working hard to make further improvements. I'd like to thank colleagues for their hard work and dedication, and our passengers for their custom, and for taking the time to let us know what they think of our service. Partnership working is crucial to GTR's success and I'd like to acknowledge the vital role played Network Rail and our suppliers."
David Statham, Southeastern's Managing Director, said: "We're always wanting to do more for our passengers, and the most recent National Rail Passenger Survey results showed that passengers' satisfaction with the punctuality of Southeastern's trains increased by eight per cent over the past year, reflecting a near 10 per cent improvement in train punctuality since 2017. This reflects the daily hard work of everyone at Southeastern, and more than £80 million of investment we've made to improve our stations, trains and the punctuality of our service."