Global Railway Review's key rail industry trends in 2023
Following a turbulent few years for the rail industry, Global Railway Review looks ahead to some of the top industry trends to keep an eye on in 2023.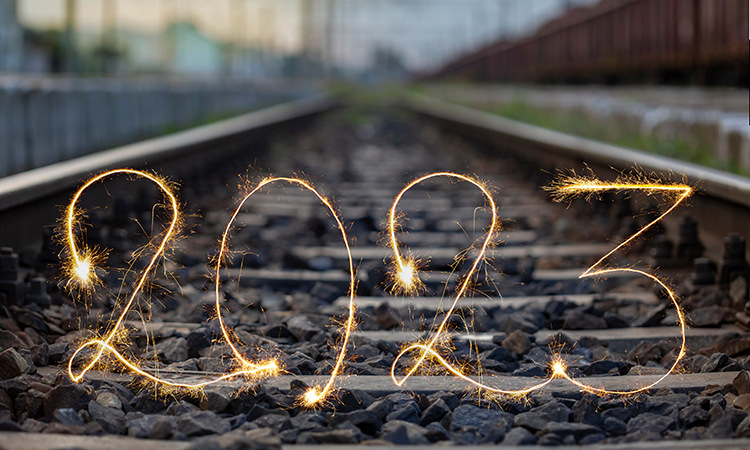 2022 was a year of recovery for the rail industry following a tough period caused by the onset of the COVID-19 pandemic. Although it wasn't without its difficulties, with the effects of the Russian invasion still being felt in the industry today, 2022 did see ridership levels begin to grow once again in many key markets and an increased focus was placed on innovation and sustainability targets.
With this recovery in mind, 2023 is already shaping up to be a vital year for the industry – a year that must continue to see change. Ongoing staff shortages and strikes, the increasing effects of climate change, and evolving passenger demands are all threatening to disrupt the progress the industry made in 2022.
With all this mind, and with 2023 well underway, Global Railway Review has compiled a list of some of the key trends and topics that we expect will dominate the rail industry this year.
Sustainability
Rail is leading the way as an energy efficient form of transportation. With passengers displaying an increasing awareness of sustainable travel, as a recent UK survey found, and the World's Governments trying to reach ambitious net zero targets, it is clear that 2023 is going to be a pivotal year for sustainability in rail.
Over the past few months, there have been promising breakthroughs in hydrogen and electrification, as well as the introduction of several new zero carbon services, which are going to play an important role for the industry throughout 2023.
High-speed rail and sustainability
Results of a recent study revealed that investing in a comprehensive European high-speed rail network will be to key to deliver added value to European society and massively reduce the environmental footprint of European passenger transport, creating a sustainable and equitable mobility. The study assessed the market potential and impact of investments in high-speed rail, investigated three network scenarios, looked at the societal perspective, including socio-economic and environmental benefits, building upon results from recent academic studies. You can take a closer look at the news around the release of this study here.
Zero carbon freight service
At the start of 2023, Network Rail announced that they will be teaming up with Varamis Rail to launch an innovative, zero carbon freight service which will run between Scotland and the Midlands, The new service is fully electric and is targeted at express parcels and third-party delivery companies, it will primarily deal with next day delivery of consumer goods. You can read more about the new carbon freight service here.
Development of an emission-free ammonia-hydrogen engine
It was interesting to see, back in October 2022, that Deutsche Bahn (DB) and an Australian energy company had signed a Letter of Intent to work together on modifying diesel engines for locomotives and traction vehicles so that they can be operated with ammonia and hydrogen. The advantage over a pure hydrogen engine is that ammonia has a higher energy density than liquid hydrogen and is easier to transport and store. You can read more about the partnership and what it means for the future of rail here.
Passenger experience
With passenger numbers slowly returning to almost the same figures as pre-pandemic levels, the industry is starting to place greater focus on the experience of travel. Constant digital innovations have allowed operators to make travel more convenient for customers, with real-time passenger information systems, improved mobile connectivity and station developments all helping to encourage passengers to return to rail.
Continuing to encourage a greater modal shift toward rail in 2023 is going to require operators to tackle persistent issues which are negatively affecting the passenger experience, such service disruptions and delays, ongoing strikes, increasing ticketing costs, and onboard space and comfort issues.
Digital display systems
We recently saw news of the rollout of a new digital display system to begin on the Hamburg S-Bahn and the Stuttgart S-Bahn network. Deutsche Bahn's new display system will help make travel easier for passengers, as it will give information on capacity directly to passengers on the platform, on the vehicle and via an app. This means that customers will be able to find a seat more quickly and rail operations become more efficient. This system will gradually go live in Germany over 2023. You can find out more here.
Increasing numbers
It was exciting to see Eurostar and Thalys unveil new branding recently, which is set to go live at the end of 2023. This new branding uses a star logo inspired by l'Etoile du Nord, the original train service linking Paris, Brussels, and Amsterdam and as a tribute to the first Eurostar logo. Under this new branding, it is hoped that Eurostar will be able to reach its bold ambition of carrying 30 million passengers by the end of 2030. You can read more about the Eurostar new branding plans here.
Passenger information notifications
The UK's Office of Rail and Road (ORR) recently called for railway operators to implement a system which automatically notifies passengers of any travel changes. The system enables notifications to be sent to ticket retailers (whether train companies, independent retailers, or travel management companies) when trains are changed or cancelled. The passenger is then sent an email or text notifying them of any changes up to 48 hours before travel. ORR has set the expectation that train companies should be using this system by the end of March 2023. You can find out more here.
Investment and funding

Investment is going to be key for the rail industry moving forward. Economic difficulties persist in rail, as with so many other industries, due to a myriad of factors such as the Ukraine invasion and the after-effects of the COVID-19 pandemic. Now, more than ever, the industry needs certainty around funding and investment, in order to fully realise the projects on the horizon.
BNSF 2023 investment
BNSF Railway Company announced its 2023 capital investment plan of $3.96 billion. These investments will play a key role in BNSF's ability to operate a safe and reliable network while supporting the anticipated needs of its customers. The largest component of the investment, $2.85 billion, will be devoted to maintaining BNSF's core network and related assets, while over $700 million will be for expansion and efficiency projects. You can find out more about the investment plans here.
Scottish investment plans
Following the confirmation of a sustained level of rail funding throughout 2023-2024 by the Scottish Government's Budget, RIA Scotland welcomed the news. "Certainty and clarity are key to the success of the rail supply sector, so it is beneficial to understand which transport investments are being prioritised," Meirion Thomas, Chair of RIA Scotland, said. "A focus on the importance of the integration of rail with other methods of transport is welcome, as is the recommendation to provide capital funding to support pilot schemes and demonstration projects for Mobility as a Service. It is now key for the action to match the words: these innovations need to be implemented, rolled out, and scaled up." You can read more about the plans here.
Canadian railway investment
The Governments of Canada and Ontario announced a joint investment to to ensure reliability and resiliency in the Huron Central Railway. The investment is $31.5 million in total, and will support the rehabilitation of key rail infrastructure to improve the usable life of the track. The investment will also help residents in the region by relieving ongoing supply chain congestion and improving the reliability of rail service in Northern Ontario. You can find out about the investment made by the Governments of Canada and Ontario here.
Workforce and EDI

Having a competent rail workforce is integral to the success of an operator. However, the workforce is facing its own difficulties in 2023, particularly with ongoing strikes in many countries which are causing constant disruption for passengers.
There is also the question of how to close the widening skills gap in the industry, with an aging workforce who are close to retiring and a younger generation showing less interest in a career within rail. Improving equality, diversity and inclusion (EDI) is also going to be key moving forward, as the rail industry strives to be representative of all who use the mode of transport.
With so many important projects coming to the fore over the next few years, ensuring the workforce is competently trained and ready to deliver transformation is going to be vital.
Getting young people into construction
It is great to see that HS2 will continue to support young people getting into construction throughout 2023, with the  national launch of 'Open Doors 2023'. The aim of Open Doors is to take young people and those looking for a change of career behind the site hoardings to experience construction first-hand. During the week long programme of events to be held in March 2023, Open Doors will highlight the diverse range of opportunities available, including thousands of apprenticeship places. You can find out more about Open Doors 2023 here.
Diversity in the workforce
The Community of European Railway and Infrastructure Companies (CER), which represents railway sector employers, remain as committed as ever to increasing diversity in the workforce. After originally signing the Women in Rail autonomous agreement with the European Transport Workers' Federation (ETF) back in November 2021, 82 per cent of the CER EU member employees are now covered by this agreement, with the number expected to rise again in 2023. You can read more about CER's commitment to diversity here.
Replenishing the workforce
UK operator, Northern, announced that they are looking to recruit as many as 280 drivers and conductors across the North of England in 2023. This recruitment process is part of a natural replenishment of the workforce as other team members retire, earn promotion, or move on to the next stage of their career. Northern is actively encouraging women to apply as part of a push to improve the male-female balance of its workforce. They are also seeking to attract more applicants from under-represented ethnicities to ensure they reflect the communities Northern serves. You can find out more about Northern's 2023 workforce replenishment here.
Related organisations
BNSF Railway Company, Community of European Railway and Infrastructure Companies (CER), Deutsche Bahn AG (DB AG), Eurostar Group, HS2 Ltd (High Speed Two), Network Rail, Northern, Office of Rail and Road (ORR), RIA Scotland, The Government of Canada, Varamis Rail
Related regions